Transformation points for clean energy solutions can put us on the path to 2050 today.
This strategy brief is part of a series on 2050 Today: A ClimateWorks initiative that is mapping out research and strategies to achieve net-zero emissions by mid-century.
Download Today
[ninja_form id=12]
Infrastructure being built and planned today will determine whether or not the world meets its 2050 goals to keep temperatures well below 2 degrees Celsius. In other words, the actions we take today to transition to zero-carbon technologies—such as wind, solar, electric-drive vehicles, etc.— will set the pace for whether clean energy will outcompete fossil fuels in the future.
Fortunately, several of the key technology and policy solutions to address climate change are already near the point of rapid market adoption (e.g. wind, solar), or are within sight (e.g. electric-drive vehicles, zero-carbon buildings).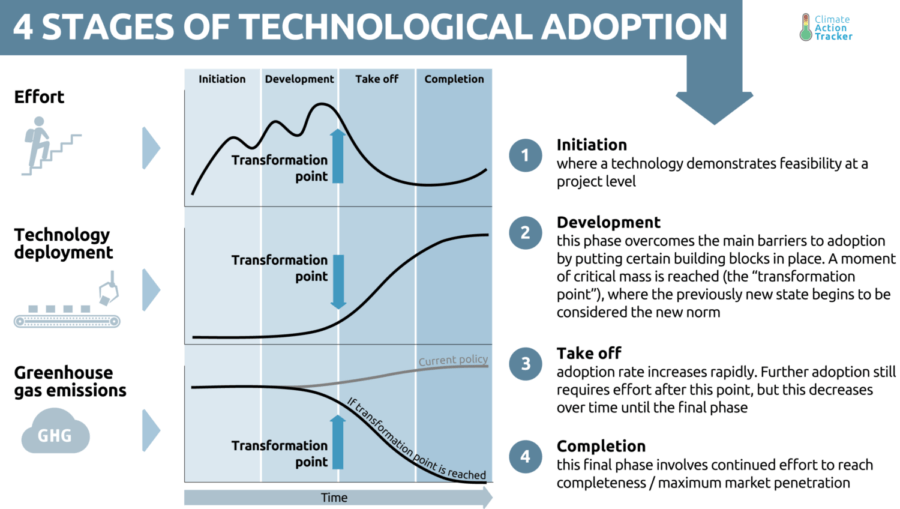 In this new strategy brief you will see:
A review of the key conditions that define a transformation point for climate solutions.
Five 'accelerators' philanthropy can pursue to achieve transformation points.
An overview of how the transition from fossil fuels to cleaner, safer energy technologies is happening much faster than previously predicted.
Examples of how ClimateWorks Foundation and its partners are integrating transformation points into strategies to tip the scales on electric-drive vehicles and to accelerate sustainable finance to reach transformation points.
Recommendations for those interested in pursuing transformation points for climate action.
Download the strategy brief using the form above.