Published September 7, 2023
Maritime shipping lies at the heart of global economic activity. Ships transport about 90% of all international trade, including consumer, industrial, and agricultural commodities. However, the sector is also responsible for 3% of all global greenhouse gas emissions, and ship pollution leads to at least 60,000 deaths a year, with a disproportionate impact on port communities. Addressing this challenge is crucial to combating the climate crisis and protecting public health.
In July, the International Maritime Organization (IMO), the sole regulator for maritime shipping, announced a strategy revision for the industry that aims to achieve emissions reductions of 30% by 2030 and 80% by 2040, signaling the beginning of a rapid transition to net-zero emissions. While many experts agree that the IMO's recent strategy revision is not fully aligned with Paris Agreement goals, the shipping sector can still achieve a 1.5° C trajectory, reducing global shipping emissions and protecting the health of port communities.
ClimateWorks Foundation partners with local communities, public and private sectors to transform the maritime shipping sector toward a carbon-free future. We partner with non-profits that work to eliminate ship pollution — such as the United Nations Foundation and Opportunity Green to decarbonize maritime shipping by 2050. I spoke with Aoife O'Leary, founder & CEO of Opportunity Green, and Susan Ruffo, senior advisor for ocean and climate at United Nations Foundation, on how the shipping sector can achieve zero emissions by 2050.
This interview has been edited for clarity and length.

What makes shipping so important for global efforts to combat the climate crisis?
Aoife O'Leary: Shipping is responsible for 3% of global emissions. This might seem relatively small, but if the shipping industry were its own country, it would rank as the world's seventh-largest emitter, comparable with countries like Germany and South Korea. Addressing the climate crisis requires us to tackle the emissions from the shipping sector. Shipping is integral to global trade and has historically contributed to economic growth worldwide. Given its impact on various economies (particularly emerging ones), shipping must take center stage in a just and equitable transition. This will involve implementing green solutions not only in high-income countries but also in emerging economies.

Susan Ruffo: We need to debunk the myth that shipping is an extremely difficult sector to decarbonize — and to clarify that we already possess both the knowledge and the growing momentum to overcome the challenge. Some other sectors like agriculture are complex due to their multitude of individual actors and lack of a standardized authority. In contrast, for the shipping sector, there exists an international regulatory body with the power to set and enforce rules, and there are relevant technologies available. Decarbonizing the supply chains that encompass most of our daily goods and food hinges on addressing shipping emissions. Neglecting this issue could exacerbate the problem, especially as shipping continues to expand. In the fight against climate change, focusing on shipping is pivotal.
Given shipping's importance to economies, why are we emphasizing decarbonization with such urgency?
O'Leary: It's important to clarify that the effort to decarbonize shipping isn't an attack on its role in economies. Rather, the objective is to collaborate with the shipping industry, governments, and supply chains to navigate the transition toward decarbonization. While shipping has contributed to economic growth, the landscape is changing. Governments are increasingly recognizing the potential economic opportunities linked to adopting sustainable practices and recognizing that the shipping industry pays little in the way of tax. This transition isn't solely about increasing costs; it's about fostering sustainable development by investing in renewable energy and green technologies. It's essential to strike a balance between economic growth and environmental responsibility, especially if we are to ensure the continued sustainable development of the countries most impacted by climate change.
Ruffo: Many governments are now embracing the transition due to its economic potential, rather than just the notion of increased costs. This is particularly true for countries with the capacity to produce renewable energy and green fuels. For them, this transition presents an opportunity to stimulate new forms of economic growth. With the IMO's new targets, we can expect movement toward new zero-emissions fuels. This will increase shipping costs in at least the short run, but if it is coupled with the kind of emissions pricing regulations the IMO is now discussing, there is an opportunity to direct investments into the sector. The key question centers around executing this transition in a controlled and planned manner that alleviates the burdens on the most impacted countries.
The IMO's refreshed strategy has received criticism for its non-binding targets and for not being aligned with 1.5° C targets. What is the context behind this criticism?
O'Leary: The IMO's strategy isn't currently binding, and it lacks specific measures to achieve its stated targets. Nevertheless, it represents significant progress from previous positions. However, the absence of alignment with the 1.5° C target is a major shortfall. This is especially concerning as temperatures in July of this year already matched the 1.5° C warming benchmark. Despite its imperfections, the strategy instills hope and offers a foundation for further development. The unanimous adoption of the strategy sends a strong political signal, providing clear direction to industry stakeholders. Although there are gaps, the strategy holds potential, and it's a starting point for progress.
Ruffo: It's disappointing that the strategy doesn't fully align with the 1.5° C target, which is a letdown for parties such as the Pacific Islands countries, the United States, and the United Kingdom that pushed for higher ambition. However, their efforts definitely drove the strategy's current level of ambition, which is a big step forward. The unanimous adoption of the strategy is politically significant and provides the industry with a much-needed signal to press forward. We should also remember that the strategy itself was never meant to be binding — it is meant to set the bar for the sector. Now the IMO will develop implementing regulations that will get us to that bar. It is important to note that, unlike the Paris Agreement, the IMO has the capacity to implement enforceable rules. These rules can help substantially reduce emissions if they are correctly aligned with the strategy's high ambitions.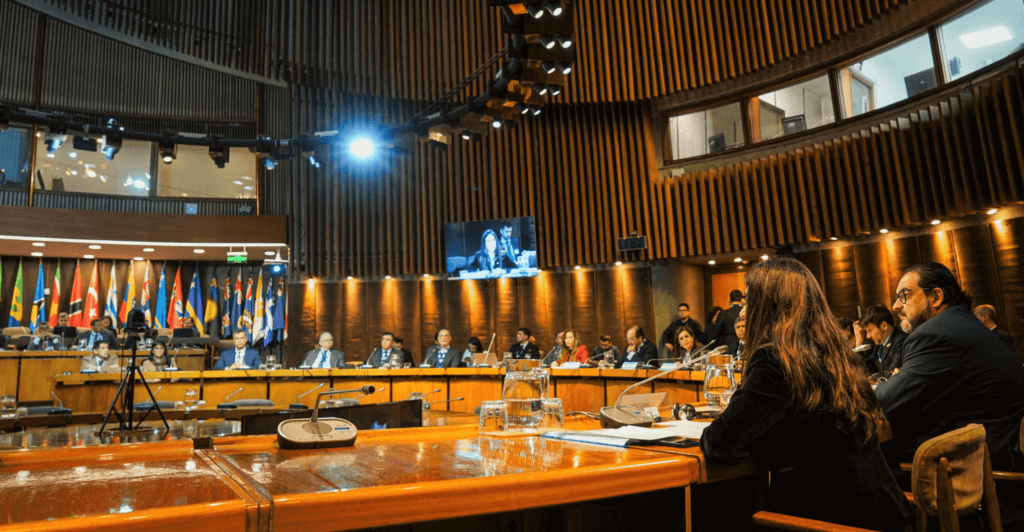 How did political dynamics influence the IMO strategy? Were there any unexpected country positions?
O'Leary: While major blocs like the Pacific Island countries have gained influence, a significant number of ambitious climate impacted countries still aren't present due to the IMO negotiations to capacity constraints. Having these countries in the room could reshape the dynamics of the discussion, as many of them hold climate ambitions. A substantial surprise lies in the European Union's positions. Despite enacting various shipping legislations, the IMO's strategy outpaces the European Union's ambitions in certain aspects. This raises intriguing questions about how these divergent approaches will unfold. Fuel standard measures and pollution levies are of high interest to many countries because they can generate climate finance for adaptation and mitigation in countries most impacted by climate change. However, those countries aren't necessarily in the room to help make those decisions.
Ruffo: Given their historical climate ambition at the IMO, the Pacific Island countries' forward-thinking position on shipping is not surprising — but their increasing influence is noteworthy. It's crucial that high-income countries like the United States and the United Kingdom support them in maintaining high expectations. Ultimately, it was the Pacific Islands countries, along with newer participants aligned with them, that pushed the strategy's ambition forward. Additionally, the strategy's implications extend beyond IMO, notably in setting a precedent for a globally enforceable carbon pricing mechanism. This is critical for driving emissions reductions.
What are the implications of the IMO's revised strategy on national action plans?
Ruffo: The IMO strategy has resulted in a clearer industry signal that can influence decisions and investments. Countries, however, haven't immediately shown plans to act solely based on the strategy. The focus appears to be on aligning existing regulations — such as the EU Emissions Trading System — with the IMO's strategy. On the industry side, clearer messages have emerged, indicating that regulations will impact currently purchased ships, thus prompting shifts in investment perspectives. National action can include investing in ports, infrastructure, and clean energy and fuel production — and hopefully, the IMO's decisions will catalyze these efforts.

O'Leary: The IMO strategy has undeniably conveyed a more definitive signal to the industry. Curiously, the industry seems more preoccupied with the 2050 net-zero goal and its proximity to 2040, rather than the nearer 2030 target. This might reflect industry perceptions of whether measures will be in place by 2030. Importantly, the strategy dismisses the shift to liquefied natural gas (LNG) as a climate solution. It highlights that all greenhouse gasses and the full lifecycle of fuels must be considered — which should sideline LNG due to its lifecycle methane emissions. While the strategy doesn't currently outline steps to achieve zero emissions, we anticipate that upcoming measures could address this gap. The specific nature of the fuel standard remains to be seen, though we already know what technologies we need to decarbonize the industry.
Where can philanthropy fill the gap in scaling up investments toward green shipping?
O'Leary: Philanthropy's contributions have been substantial in supporting organizations and networks pivotal in shaping the strategy. However, significant work remains to be done. The need for first movers in voluntary actions is essential. While some industry leaders have shown a willingness, there is a need for legislative support. Philanthropy's value lies in offering a higher-level strategic perspective, identifying gaps, and aiding in their resolution. A core focus is on representation in decision-making processes. Nonprofits play a critical role here, though the ultimate responsibility rests with governments.

Ruffo: Philanthropy's unique advantage is its ability to embrace risk without immediate monetary returns. This flexibility, coupled with a higher risk tolerance compared to traditional capital sources, can propel philanthropy to play a pivotal role in decarbonizing the sector. It is vital to provide support in areas such as bolstering countries' presence in meetings and fostering cross-sectoral connections to climate ambition — even if these actions don't readily yield monetary gains. This important role seems to be uniquely filled by philanthropy. Organizations like ClimateWorks Foundation — which are involved in promoting green shipping but also broader climate and renewable energy development efforts — remain key in bridging gaps that may arise due to fragmented institutions at the national level.