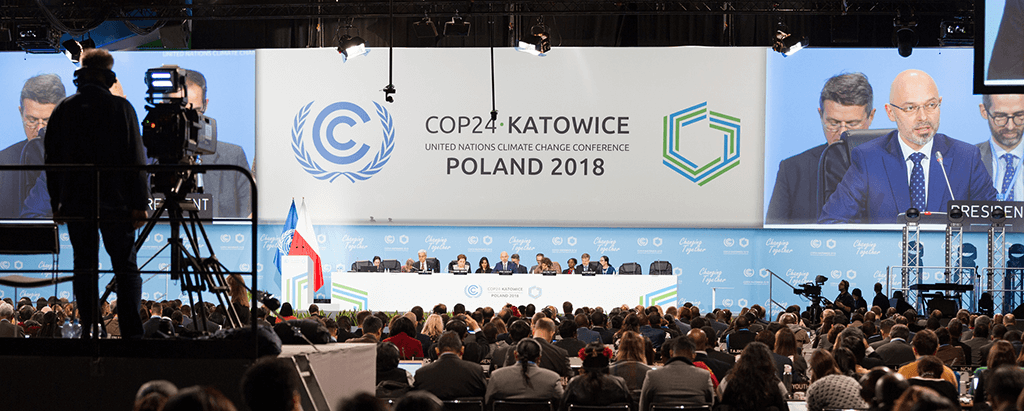 Published December 7, 2018
This year's UN climate conference is the most important since 2015—with the focus on finalizing the rules of the landmark Paris Agreement.
The Paris Agreement rulebook is under negotiation at COP24. It will establish aspects that are key to implementing the agreement, including issues related to nationally determined contributions (NDCs), transparency, compliance, finance, adaptation, and progress tracking.
With nearly 200 countries participating, along with civil society representation from around the world, several members of the ClimateWorks team are at COP24, hosting and participating in a number of public and private events. Our participation this year is aligned around two themes that are core to our efforts at ClimateWorks—measuring progress toward mid-century decarbonization and accelerating climate action.
Join us
ClimateWorks is hosting and participating in these upcoming events at COP24:
Contributions of International Transport to Global Climate Mitigation
Friday, December 7, 4:45pm – 6:15pm CET | Meeting room: Pieniny
ICAO & IMO have defined GHG targets and are defining steps to reduce emissions from international transport. The side event will present recent developments and explore options for how individual countries and the EU as a bloc can step up climate change action in these sectors. The panel will be moderated by Jason Anderson, Director, International Engagement and and Non-CO2 Initiatives for ClimateWorks.
ClimateWorks Foundation Deep Dive on the Independent Global Stocktake
Saturday, December 8, 8:30am –1:00pm CET | Marriott Katowice City Center
The fourth in a series of strategy and coordination meetings on the Independent Global Stocktake, the December gathering will build on the outcomes of the New York Climate Week meeting. Partner organizations will have the opportunity to refine the iGST Terms of Reference (TOR) while looking ahead to a work plan for 2019 and beyond.
Laying the Foundation for an Inclusive Global Stocktake
Tuesday, December 11, 4:45pm-6:15pm CET | Meeting room: Narew
This event, co-hosted by ClimateWorks and the Wuppertal Institute, launches the Independent Global Stocktake (iGST), a data and advocacy initiative that brings together climate researchers, modelers, and advocates to support the Paris Agreement. A panel discussion will focus on the factors that will determine the success of the Global Stocktake, big unanswered questions that remain under negotiation at COP24, and the need for civil society to advocate for a robust Global Stocktake and provide input into the process. Join us in-person or via webcast.
Low Carbon Cooling: Scaling-Up Innovation, Finance and Deployment
Wednesday, December 12 | 14:30 –16:00 | UK Pavilion
The UK Government's Department for Business, Energy & Industrial Strategy (BEIS), in cooperation with the University of Birmingham, will hold a side-event on the urgency for scaling up innovation, finance, and deployment of low-carbon cooling technologies. The K-CEP supported cooling technology landscape assessment will be launched.
Showcasing Fast Action on the Kigali Amendment to the Montreal Protocol
Wednesday, December 12 | 18:30 – 20:00 | International Congress Centre Room 4
United for Efficiency will host this side-event to explore actions by governments, the private sector, and civil society to switch to clean and efficient cooling. The panel will be moderated by Dan Hamza-Goodacre, Executive Director of the Kigali Cooling Efficiency Program, a program of ClimateWorks Foundation.
Powering Past Coal Alliance: Accelerating the Global Coal Transition
Thursday, December 13 | 13:15 – 14:45 | Meeting Room: Warmia
An event hosted by the UK and Canadian Governments and E3G, to highlight growing international momentum around the transition from coal following the launch of the Powering Past Coal Alliance at COP23. The event will also showcase workstreams and initiatives being taken forward through the Alliance.
China Cooling Efficiency and Global Climate Cooperation
Thursday, December 13 | 10:00 – 12:00 | Meeting Room: GEIDCO-UNDESA Pavilion
An event hosted by the Innovative Green Development Program, to highlight China's role in progressing more efficient, clean cooling in China and internationally, through collaboration between Chinese NGOs and international organizations.  K-CEP's Hu Min and Dan Hamza-Goodacre will both speak at the event.
We also participated in this event, which took place before this blog post went to press:
Leading the Way on Enhanced Ambition – Policy Opportunities in China and Europe
Tuesday, December 4 | 6:30pm – 8:00pm CET | European Union Pavilion, Brussels Meeting Room
In collaboration with Energy Foundation China and the European Climate Foundation, this event presented aligned, regionally-driven modelling efforts for China and the EU that identify concrete policies at the sectoral level that can lead to a peaking of energy-related CO2 emissions in China as early as 2020, and net-zero emissions in Europe by 2050.
We hope to see you at these events. Stay tuned for updates as COP24 unfolds at Katowice.