Today, ClimateWorks Foundation is releasing its 2020 annual report, which tells how ClimateWorks navigated a precarious year of crisis to continue advancing our mission to end the climate crisis by amplifying the power of philanthropy.
The report theme, Converging crises, converging solutions, reflects our view that 2020 was remarkable not just for the number and scale of challenges the world faced, but also the deep interconnections between them. From the escalating impacts of climate change and the Covid-19 pandemic to rising economic inequality and persistent social and racial injustices, 2020 underscored the need to broaden our perspectives and work together to overcome challenges and build a more inclusive, sustainable future for all.
In 2020, ClimateWorks collaborated with partners in over 40 countries worldwide to drive high-impact climate solutions on a global scale. We are grateful for the ongoing support and collaboration of our funders, grantees, and partners, which enabled us to increase our grantmaking dollars awarded by nearly 50%, reaching 386 grantees. We also helped climate philanthropy increase its collective impact by roughly doubling our intelligence publications and our convenings, reaching over 2,000 participants.
Our top highlights from the year include:
Launched a new

strategic plan

and brand and began to re-examine ourselves and our work to better

support climate, equity, and justice

Drove sustainable Covid-19 recovery solutions to support the global transition toward a low-carbon economy

Advanced equity and justice in our climate change mitigation efforts.

Expanded our global network of grantees, funders, and partners to drive collective progress toward international climate goals.

Further developed our collaborative platform to equip funders with the tools to ensure effective giving amid a rapidly changing landscape.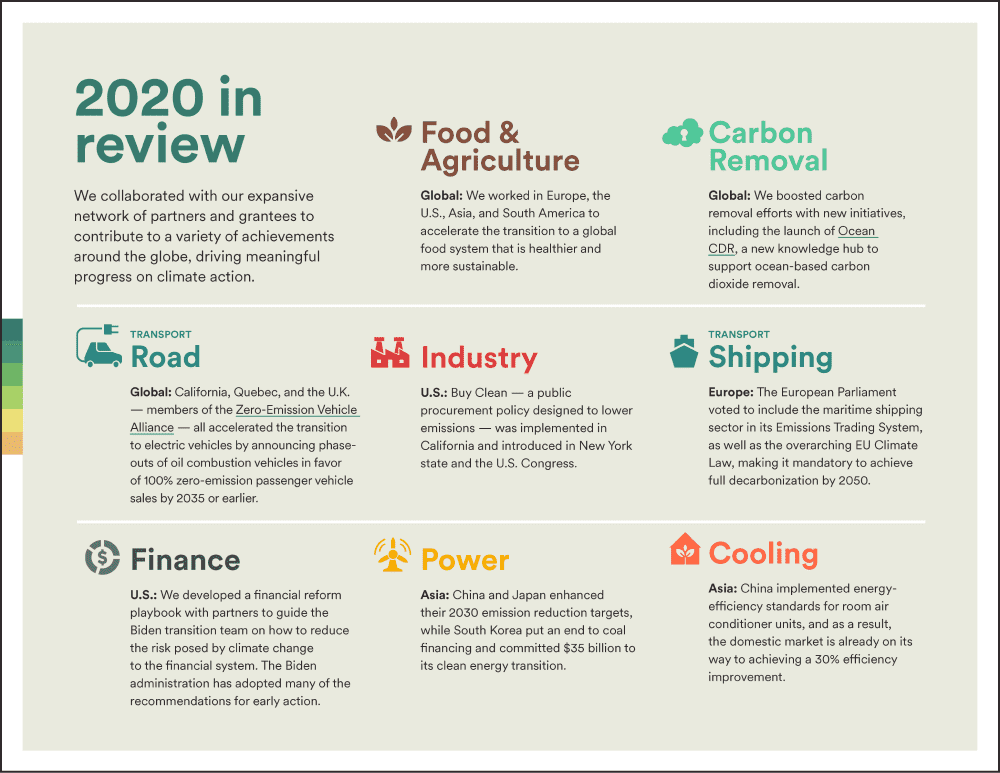 As much as this report is a review of work completed, it is also a call to action for the work ahead. We are encouraged by the progress we made in 2020, and we look forward to building on this momentum as we advance our vision of a planet that is a thriving home for all living beings for generations to come.