Published September 29, 2016
Without action, international aviation could make up over a fifth of global carbon emissions by 2050.
I love air travel. As the daughter of a pilot, I grew up recognizing different aircraft by their profile in the sky and could even identify specific helicopters based on their distinctive sounds. To this day, I still get a thrill every time a plane accelerates down the runway for takeoff.
But like it is for most people, flying is by far my largest carbon sin — accounting for 50-75 percent of my overall carbon emissions when my work travel is included.[footnote tooltip="ClimateWorks Foundation is committed to being carbon-neutral. The organization offsets its greenhouse gas emissions from air travel and electricity use in its office with Verified Carbon Standard credits purchased through Terrapass."][/footnote] Next week I will add to that carbon total when I travel to Montreal, Canada to attend the wrap-up of the United Nations' International Civil Aviation Organization (ICAO) 39th General Assembly.
Over the next two weeks ICAO is expected to adopt a global market-based measure (GMBM) for international aviation, the world's first global sector-wide cap on carbon dioxide emissions. ICAO has set a goal of carbon neutral growth from 2020 – i.e., capping net emissions at 2020 levels.
The General Assembly comes approximately 200 days after world leaders agreed to the landmark Paris Agreement and just one month prior to COP22 — when countries will discuss how to enforce the terms agreed to in Paris. With the General Assembly on aviation occurring only once every three years at ICAO, environmental observers predict that the Montreal outcome will be a key litmus test for countries' willingness to deliver on the overall Paris Agreement.
The Magnitude of the Challenge
Global aviation is the seventh biggest global carbon emitter, producing more climate pollution than Canada or South Korea and just less than Germany – accounting for 5 percent of global greenhouse gas emissions. Moreover, international aviation is growing quickly. If nothing is done to address the industry's emissions, they are projected to balloon 300 percent above 2005 levels by mid-century and consume 22 percent of the world's entire carbon budget to limit average global temperature increase to less than 2˚C by 2050. Put simply, the world cannot avoid dangerous climate change without addressing aviation emissions.
Beginning to Solve Aviation's Climate Challenge with a Global Market-Based Measure
In 2010, the ICAO set a goal of carbon-neutral growth from 2020 levels (represented by the solid red line in the chart below). But given the sector's projected expansion, the current CO2 standard and operational improvements (the blue wedges) are insufficient to deliver the reductions needed to eliminate aviation's emissions gap. Furthermore, research suggests there is no realistic prospect of closing aviation's 7.8 billion tonne emissions gap without a GMBM.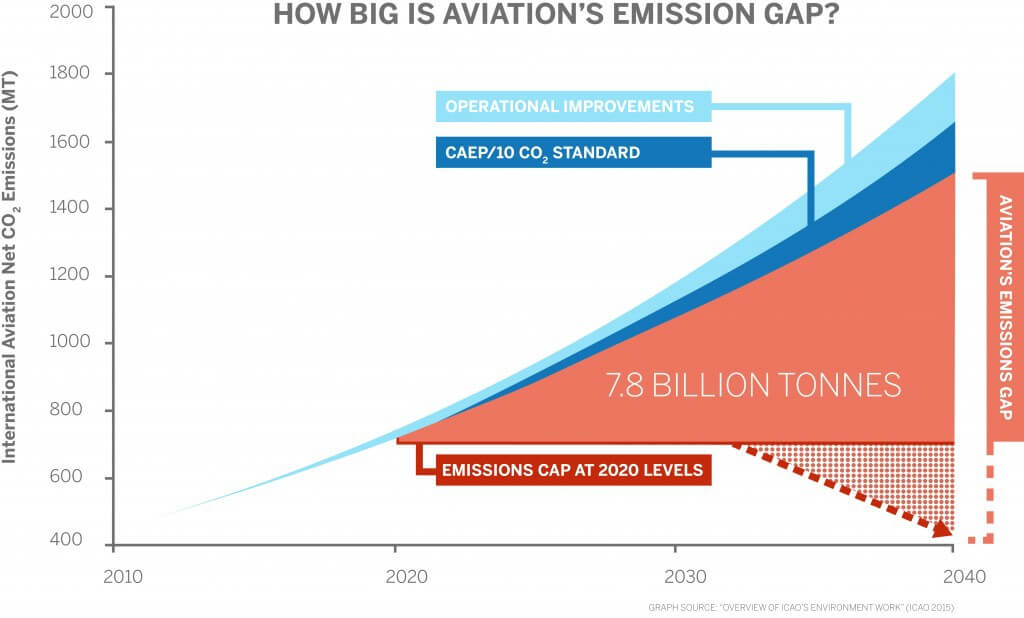 A GMBM would give each airline the flexibility to reduce emissions from its own operations and to purchase emissions units, including offsets, from other carbon market programs. Reducing emissions to meet the goal of the Paris Agreement (the dotted red wedge) will require additional reforms. Fortunately, a recent study by WWF and Stockholm Environmental Institute suggests that enough offsets that generate real emissions reductions and support sustainable development exist to satisfy the projected ICAO demand. Moreover, because ICAO adopted an unambitious CO2 standard for aircraft earlier this year, the GMBM if adopted will become the aviation sector's main emissions reduction tool in the short term.
While some organizations are criticizing the not-yet finalized deal due to its reliance on offsetting, it's important to understand that the agreement on the GMBM is just a first step. ICAO parties must move quickly to strengthen the ambition of the GMBM and to adopt measures that reduce, not just cap, aviation emissions. Additionally, important technical details, including those regarding emissions unit quality, accounting for full lifecycle emissions from biofuels, and ensuring no double-claiming of emission reductions, are all crucial aspects that must still be finalized to ensure environmental integrity.
Participation and Emissions Coverage
The current draft text that ICAO's Assembly will consider marks a major shift from previous drafts. Instead of trying to identify a formula for defining which nations would participate in each of several phases, the new text proposes starting off with voluntary pilot phases.
The question of which states will agree to participate in the GMBM has long been a point of contention and many proposed formulas to determine inclusion have been sharply criticized due to limited emissions coverage. Recently a fragile consensus emerged among member states that participation in the first six years of the program should be "voluntary" – that is, rather than applying a single formula to determine who is covered and who is exempt, states should be invited to participate in the GMBM. While this proposed opt-in system would be a departure from ICAO's stated goal of carbon-neutral growth after 2020 (CNG 2020), this "voluntary" approach enabled some developing countries to consider participation. While approval of the current draft resolution text is by no means assured, many states feel it strikes a delicate balance, and, to date, 63 countries, including the United States, China, and most European countries, have signaled their likely participation representing two gigatonnes of committed emission reductions from 2021-2035.[footnote tooltip="Canada, Mexico, United States, Indonesia, China, 44 member states of the European Conference on Civil Aviation, the Republic of the Marshall Islands, Singapore, Japan, Guatemala, Malaysia, Kenya, UAE, New Zealand, the Republic of Korea Australia, Thailand, Israel, Costa Rica and Papua New Guinea have so far pledged to join the GMBM. "][/footnote]
For the ICAO agreement to be effective, it is essential that there is maximum participation from states in the GMBM as early as possible.
Continued effort is needed to secure the commitments of aviation powerhouse states in the Middle East like Qatar; leading Latin American states like Brazil, Chile, Argentina, Peru, Ecuador and Colombia; and leading African states including South Africa, Nigeria, Ghana, Cameroon, and Senegal.
The next time I board a plane and reluctantly recalculate my carbon footprint, I will be headed to Montreal in support of the International Coalition for Sustainable Aviation, a group of NGOs that have been working for several years to secure an agreement on the GMBM at ICAO. With the Paris Agreement set to come into force by the end of 2016, attention is now turning to Montreal to secure an environmentally robust global agreement on aviation emissions, sending a critical signal to countries and industry alike that capping and reducing aviation emissions is essential to avoiding dangerous climate change.