Published August 22, 2022
Before the pandemic brought global travel to an abrupt halt in early 2020, extensive government and business travel for workshops, meetings, and seminars was the norm. In-person attendance was considered polite and good for business and, in turn, propped up decades of increasing demand for corporate flights. Covid-19 challenged this standard and proved that much of the demand for business travel is artificially induced and, more often than not, simply unnecessary.
This shift in behavior revealed two insights. First, corporations can save on operational costs for business flights while championing a reduction of aviation emissions. Second, demand reduction is a viable pillar to decarbonizing the aviation sector alongside strategies to advance sustainable aviation fuels and zero-emission aircraft.
Aviation growth is undeniable
Emissions from global travel are projected to grow from an estimated 2% of global carbon emissions today to 12-27% of emissions by 2050. According to the UN's aviation agency, the International Civil Aviation Organization (ICAO), global passenger traffic will grow 3.6% annually through 2050. As we discussed in a previous blog post, aviation's effects on the climate are not limited to CO2 emissions. The negative effects of emissions of nitrogen oxides (NOx), soot particles, oxidized sulfur, and water vapor high in the atmosphere are estimated at two times those of CO2. While the aviation sector is starting to make strides toward expanding the base of sustainable aviation fuels and exploring other technologies for zero-emission flights. In the meantime, demand reduction through smart business engagement represents a key near-term solution to reducing aviation emissions.
Why business travel matters for aviation decarbonization
Only 1% of the global population is responsible for 50% of emissions from flying, and a big share of this — about 30% in Europe — comes from corporate flyers, often with high-polluting business class long-haul flights. Moreover, business travelers make up some 12% of passengers but up to 75% of revenues on certain flights, so their choices have important leverage on the aviation industry. Given their significant purchasing power, companies are in a unique position to influence the acceleration of sustainable aviation and to reduce their travel emissions by reducing their business travel. The pandemic has provided an unprecedented opportunity to lock in reductions in global corporate flying and to introduce a new culture of purposeful and effective travel.
For many companies, business air travel is a large part of their CO2 footprint, including up to 60-80% for service provider companies (e.g. consultancy and finance). As part of their new Travel Smart Campaign, ClimateWorks Foundation partner Transport & Environment recently published a ranking of 230 global companies as a way to drive business accountability and transparency. The ranking reveals that 80% of the companies fail to act with sufficient speed and ambition to tackle corporate travel emissions.
But the benchmark also highlights that some companies are leading the way, championing the ranking, and demonstrating that it is not only possible but beneficial for companies to address business travel emissions. "Traveling smart" means saving money for businesses and meeting evolving investor expectations to cut costs, while also protecting employees' well-being and showing leadership in the climate crisis. This global campaign asks businesses to learn from climate breakthroughs made by others and join forces to accelerate the decarbonization of aviation. It challenges companies to reduce air corporate travel emissions by 50% or more from 2019 levels by 2025.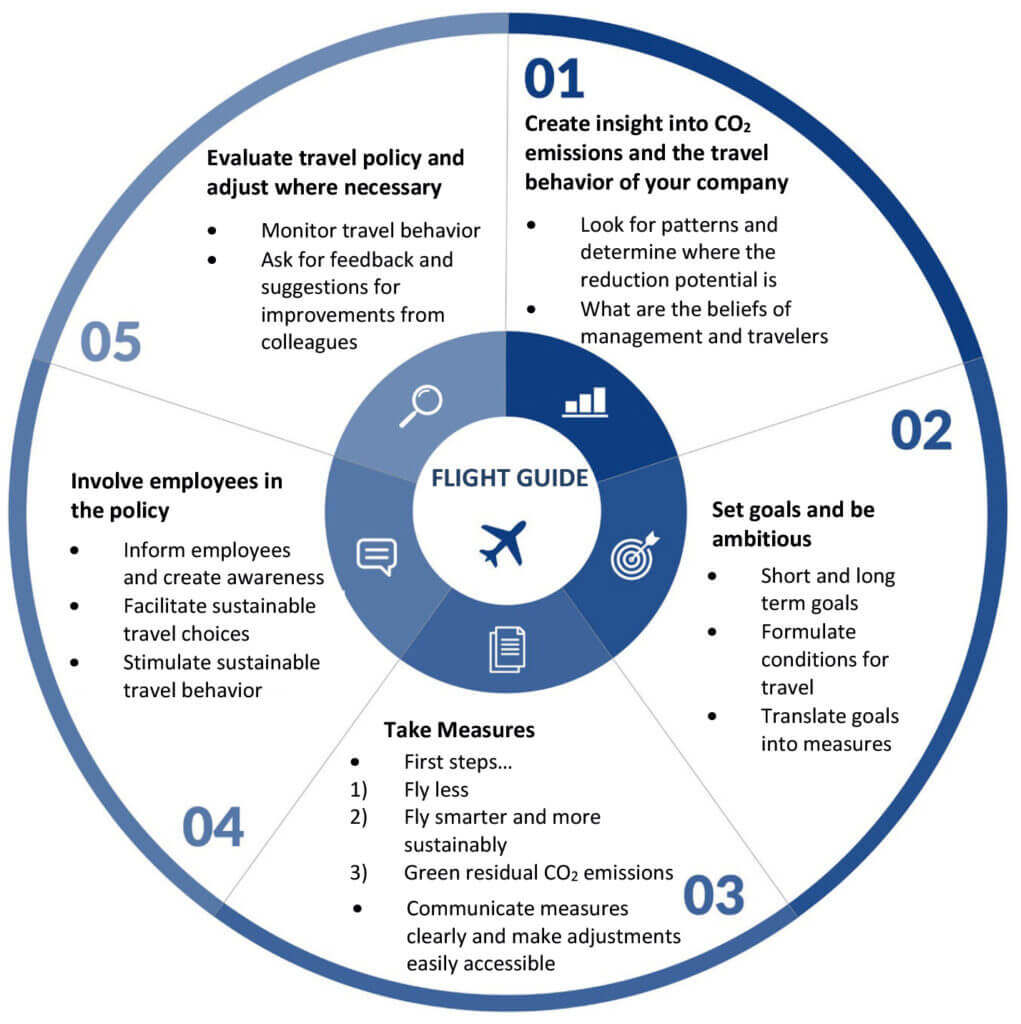 Corporate action as a lever for sustainable aviation
Global corporations drive lucrative business air travel and as such, their behavior can set a strong precedent for the aviation market. As more corporations publicly announce targets for reducing business travel emissions, philanthropy must take advantage of this moment by supporting campaigns that target accountability, increase ambition, and push for immediate action. Reducing demand for business travel is an obvious win for decarbonizing the aviation sector that cuts costs for businesses and achieves immediate emissions reductions. It is also a solution that allows corporations to act now on reducing emissions, rather than wait for future technological advances, like sustainable aviation fuels. Visit the Travel Smart Campaign website, to learn more about immediate steps that can be taken to reduce business travel demand.