Published October 31, 2022
Now is the time for funders big and small to bolster their climate efforts.
A new report by ClimateWorks finds that there is significant momentum for climate-related philanthropy. In 2021, philanthropic giving to climate change mitigation increased by 25%, outpacing the 8% increase in overall philanthropic giving, according to "Funding trends 2022: Climate change mitigation philanthropy," a new report by ClimateWorks.
Despite this momentum, climate change mitigation still accounts for less than 2% of overall philanthropic giving — and the funding amounts are far short of the level needed. Given the ever-increasing urgency of the climate crisis, it is time for philanthropy to step up its ambition — and to move more funds faster to the places that need them most.
Foundations continue to accelerate funding for climate change mitigation
A central component of ClimateWorks' analysis involves tracking the flows of funding from foundations to climate change mitigation causes. "Funding Trends" finds that such giving from foundations has more than tripled since 2015, the year the Paris Agreement was adopted — growing from $900 million to more than $3 billion in 2021. Funding increased by more than 40% between 2020 and 2021 alone.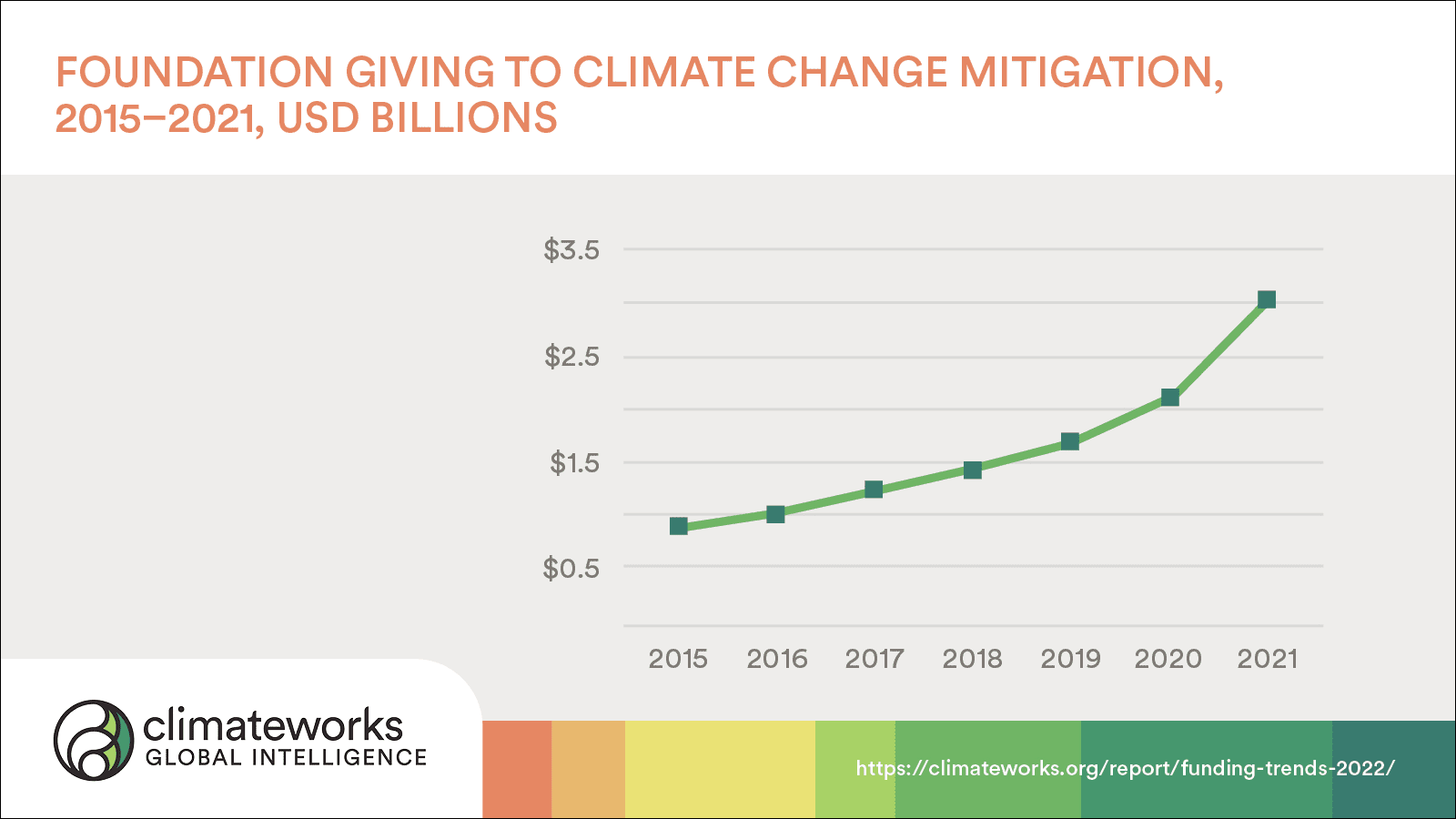 Simultaneously, the grantee community has similarly grown in recent years. Backed by philanthropic support, the total number of grantees receiving climate change mitigation funding has nearly doubled from about 1,400 in 2015 to about 2,775 in 2021 — and the total number of individual grantees receiving funds annually has increased across all regions.
Several sectors saw especially large funding increases in 2021. Foundation funding for forests increased by 69%, driven by major new commitments such as the Indigenous People and Local Communities (IPLC) pledge and the Protecting Our Planet Challenge. Meanwhile, funding for carbon dioxide removal (CDR) increased by 62%, building on a consistent trend of growth for the sector over the last several years.
Regionally, the United States and Canada ($810 million) and Europe ($435 million) continued to receive the most foundation funding for climate change mitigation. However, the largest increases came in Latin America, which saw its funding double between 2020 and 2021, and Africa, where funding increased by 50%. Despite these increases, Latin America and Africa combined still represented less than 10% of total foundation funding for climate change mitigation in 2021.
Beyond increased funding dollars, more climate funders continued to commit over the past year to incorporating equity and justice principles into their grantmaking. Climate philanthropy also saw in 2021 the continued emergence of newer approaches and strategies. One rising trend is fossil fuel divestment, with the Ford, MacArthur, and Rockefeller foundations all announcing plans to shift their investments away from fossil fuels. In 2021, the philanthropy sector also participated in large-scale collaborations and partnered with both governments and the private sector in efforts to address climate change. Overall, as the climate philanthropy field continues to expand and mature, funders increasingly have the opportunity to advance integrated solutions, acting on climate change while simultaneously working across many social and humanitarian issues.
A decisive moment for the planet — and for climate philanthropy
It is a decisive moment for the planet. The actions taken, solutions supported, and financial resources mobilized in the coming years will have enormous implications for future generations and the possibility of securing a more just and sustainable future.
There has been compelling momentum in recent years for climate-related philanthropy — momentum that continued to accelerate in 2021. Philanthropy must continue to build on that momentum. Now is the time for funders big and small to step up their climate efforts — and to partner with a wider range of communities, movements, and organizations — to help implement climate solutions and to help ensure that humanity not only survives but thrives.
Read the full report, Funding trends 2022: Climate change mitigation philanthropy.