Published December 21, 2018
Countries reached a deal to implement important elements of the Paris Agreement, and there is momentum going into 2019, despite a year of dire climate impacts and rising emissions. ClimateWorks' focus at COP24 was on tracking progress and accelerating climate action today to make mid-century decarbonization possible.
2018 was ClimateWorks' 10th anniversary, a period bookended by UN climate conferences in Poland: COP14 in Poznan and the recently concluded COP24 in Katowice. A lot has changed in that decade, including the landmark Paris Agreement struck at COP21. This year at COP24 a deal was made on almost every aspect of the Paris Rulebook, which defines important aspects of the Paris Agreement–affirming its resilience and the determination of Parties to press ahead, with the IPCC's most recent report ringing in their ears.
Check out this summary from Carbon Brief for a complete rundown of the outcomes of Katowice and see below for a wrap-up of ClimateWorks at COP24.
Measuring progress toward mid-century decarbonization
The Paris Agreement is framed around explicit, long-term goals, with regular review and assessments of progress every five years. A key component is the Global Stocktake, now codified in the Paris Rulebook, and referred to by Christiana Figueres as the "beating heart" of the Paris Agreement.
To support this part of the deal, ClimateWorks launched the Independent Global Stocktake to bring together a global community of climate researchers, modelers, and advocates to coordinate and align in advance of the first Global Stocktake in 2023.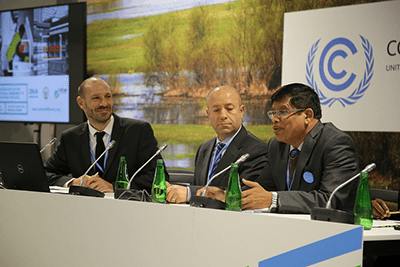 With emissions still rising and climate impacts accelerating, increased ambition is urgent. China and the EU are well-positioned to step up, and at COP24 we shared new modeling that identifies policies that can lead to a peak in energy CO2 emissions in China as early as 2020 and net-zero emissions in Europe by 2050.
Building on momentum from September's Global Climate Action Summit, where cities, states, businesses, and countries made bold commitments to climate action, innovation and progress were on display in Katowice. At COP24, ClimateWorks convened groups to continue our collaborative efforts to identify the potential of, measure, and accelerate non-Party action.
Measurement is also at the heart of the ClimateWorks-supported Initiative for Climate Action Transparency, which convened countries and other key players to discuss progress and next steps in developing methodologies and toolkits that enable Parties to convert their Paris commitments into policy.
Accelerating climate action today
Action and leadership are showcased in "Blueprint to Transition", a short film that looks at how the UK and the Netherlands are phasing out coal power in the next 8-12 years, moving to clean power, and becoming a model for other governments to follow. The video, co-produced by ClimateWorks, was screened at the Powering Past Coal Alliance COP24 side-event.
Also at Katowice, the Kigali Cooling Efficiency Program (K-CEP) presented a new Cooling as a Service Initiative with the Basel Agency for Sustainable Energy (BASE). K-CEP also shared details of the Million Cool Roofs Challenge, a prize to deploy a million square meters of cool reflective roofing. At the Innovative Green Development Program green cooling event, the Director General of China's climate change department spoke about the importance of cooling in relation to China's cooperation with the world in tackling climate change.
More than 10 Chinese NGOs signed up to a new coalition focused on green cooling in China.
The University of Birmingham, in partnership with K-CEP and the UK Government, launched a new Clean Cooling Landscape Assessment, an online tool that categorizes cooling technologies. This assessment will help investors, foundations, and buyers and sellers of cooling across the globe better understand the technology and business model options that can urgently scale up efficient, clean cooling for the benefit of people and the planet.
International climate policy in 2019
The next COP will be hosted by Chile, in cooperation with Costa Rica, a climate champion, which bodes well. Before then, all eyes will be on the UN Secretary General's summit in September, which will provide a platform free of the strictures of negotiation, where countries will be expected to lay out their plans to increase national commitments in 2020.
On behalf of everyone at ClimateWorks, happy holidays and we look forward to another year of advancing the transformational changes that can solve the climate crisis.