All Resources
Ambassador Ertharin Cousin Named ClimateWorks Foundation Distinguished Fellow
Internationally esteemed global food system expert to advise climate philanthropy leader on food and agriculture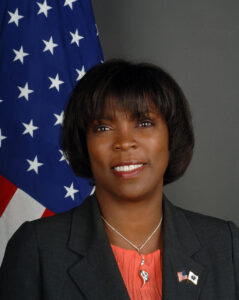 SAN FRANCISCO – July 26, 2021 – ClimateWorks Foundation, a leading global platform for climate philanthropy, today announced that Ambassador Ertharin Cousin has joined the organization as a distinguished fellow where she will advise its Food and Agriculture Program. Cousin is a renowned expert in the global food system, and her deep expertise will bolster ClimateWorks Food and Agriculture Program's philanthropic approaches, convenings, and grantees. 
"As the global climate crisis accelerates, worldwide food and nutrition insecurity increases," said Ertharin Cousin, "At the same time, the food system is a major contributor to climate change. We must take action now to transform how we produce and consume food; not only to reduce food system-generated greenhouse gas emissions but also to increase nutritious food availability and access while ensuring equitable economic opportunity for all food system stakeholders around the world. I'm excited about working with the ClimateWorks team to tackle these vital issues and support this fundamental human right."
The ClimateWorks Food and Agriculture Program works with international grantees and partners to support the transition to a food system that can deliver up to a third of the required reduction in global carbon emissions, alongside other sustainable development objectives. ClimateWorks collaborates with NGOs, researchers, businesses, governments, and funders to scale innovative technologies, ideas, and policies that provide nutrition for all while also reducing greenhouse gas emissions and improving the health of people, animals, and ecosystems. 
"The connection between food production and climate is well understood, but change has been slow," said Chris DeCardy, acting CEO of ClimateWorks Foundation. "Philanthropy is helping to fill a critical gap in partnering with governments, the private sector, and civil society to catalyze change. We're thrilled to welcome Ertharin, who will significantly help us best play our role in supporting the transition of the food system at the speed and scale demanded by the climate crisis."
Ertharin Cousin has more than 30 years of leadership experience in national and international nonprofit, government, and corporate organizations. In addition to her role at ClimateWorks, Cousin serves as CEO and Co-Founder of Food Systems for the Future, a new global climate impact fund.  She is also a Robert von Weisacker Fellow of the Robert Bosch Academy, visiting scholar at the Center on Food Security and the Environment at Stanford University,  and a distinguished fellow of global agriculture at the Chicago Council on Global Affairs. She previously served as executive director of the United Nations World Food Programme, where she led the world's largest humanitarian organization serving 80 million vulnerable people across 75 countries. 
Before joining the World Food Programme, Cousin was appointed by President Obama as the U.S. ambassador to the UN Agencies for Food and Agriculture in Rome. In this capacity, she regularly represented U.S. interests in global leader discussions regarding humanitarian and development activities. Cousin also served as the executive vice president and chief operating officer of America's Second Harvest (now Feeding America),  senior vice president for Albertson's Foods, and White House liaison to the U.S. State Department. Cousin is a graduate of the University of Illinois at Chicago, the University of Georgia Law School, and the University of Chicago Executive Management Finance for Non-Financial Executives program. 
About ClimateWorks Foundation
ClimateWorks Foundation is a global platform for philanthropy to innovate and accelerate climate solutions that scale. We deliver global programs and services that equip philanthropy with the knowledge, networks, and solutions to drive climate progress. Since 2008, ClimateWorks has granted over $1 billion to more than 500 grantees in over 40 countries.
Published July 26, 2021
Media Contact