All Resources
Research Grants for Ocean-Based Carbon Dioxide Removal Awarded to University of Washington's School of Oceanography, the United States Geological Survey, and Woods Hole Oceanographic Institution
Projects to study field-based analogues to evaluate the effectiveness and environmental impacts of ocean-based CDR approaches
SAN FRANCISCO – October 28, 2021 – ClimateWorks Foundation, a leading global platform for climate philanthropy, and Ocean Visions today announced the grant recipients of the Ocean-Based CDR Analogues Request for Proposals — University of Washington's School of Oceanography, the U.S. Geological Survey, the Prince William Sound Science Center, and Woods Hole Oceanographic Institution (WHOI). The 18-month grants will support evaluating the environmental impacts of ocean-based carbon dioxide removal (CDR) approaches via a study of field-based analogues.
ClimateWorks' CDR Program supports research on removal topics deployed in tandem with mitigation strategies to stabilize the climate and protect the people and other living things that cannot thrive in a world where temperatures exceed 1.5 degrees Celsius. Ocean Visions has a multi-pronged program to support accelerated research and development of ocean-based CDR. Consistent with other scientific studies, the IPCC Working Group 1 report concludes with high confidence that some carbon dioxide removal (CDR) is essential as a complement to, and not a replacement for, CO2 emissions reductions.
"The ocean is Earth's largest CO2 sink, and early scientific studies point to the potential to leverage natural processes to capture significant amounts of CO2," said Jan Mazurek, Ph.D., senior director, Carbon Dioxide Removal at ClimateWorks Foundation. "However, there's a significant gap in small, controlled field trials to provide real-world evidence of specific approaches to ocean carbon sequestration, including environmental co-benefits and risks. We're excited to support this research to understand the opportunities for responsible ocean removal in restoring the climate and marine health."
Ocean-based CDR analogues are defined as naturally existing marine settings that remove carbon dioxide (CO2) from the atmosphere via processes that could theoretically be replicated, accelerated, and scaled. To help close key knowledge gaps to advance ocean-based CDR, and to catalyze public and philanthropic interest in this field of research, ClimateWorks and Ocean Visions have partnered on this research grant opportunity, which is awarding upwards of $440,000 to support the selected proposals.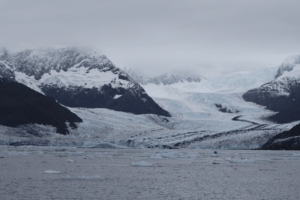 Assessing Ocean Alkalinity Enhancement Through the Seasonality of the Mississippi River Alkalinity Flux
Led by Woods Hole Oceanographic Institution's Assistant Scientist Adam V. Subhas and Associate Scientist Z. Aleck Wang, this project will explore the implications of the naturally-occurring seasonally enhanced alkalinity flux from the Mississippi River to the Gulf of Mexico, and investigate the impacts of elevated alkalinity delivery to the ocean. Findings from this research will help quantify air-sea CO2 fluxes and establish efficiency metrics for bicarbonate-based enhanced weathering and ocean alkalinity enhancement approaches.
CO2 uptake via chemical weathering of glacial particles in ocean
This project will measure the rate of alkalinity addition from mineral weathering under real-world seawater conditions at the fjords of Prince William Sound, where multiple glaciers naturally discharge fine-grained aluminosilicate particles into the ocean. The project will measure CO2 uptake in the surface water and sediment porewaters to test the link between alkalinity addition and atmospheric CO2 removal, and determine how trace metals released during weathering impact marine systems. Data from the research will inform feasibility studies, uncover scaling issues, and provide a proof of concept to support future CDR efforts.
The project will be led by: Alex Gagnon, a chemical oceanographer and associate professor at the University of Washington School of Oceanography; John Crusius, a scientist with United States Geological Survey Alaska Science Center and affiliate associate professor at University of Washington School of Oceanography; and Rob Campbell, a biological oceanographer and the chief science officer at the Prince William Sound Science Center. 
Impartial research findings are expected for peer-reviewed publication and shared with the scientific community and CDR practitioners. 
---
About ClimateWorks Foundation
ClimateWorks Foundation is a global platform for philanthropy to innovate and accelerate climate solutions that scale. We deliver global programs and services that equip philanthropy with the knowledge, networks, and solutions to drive climate progress. Since 2008, ClimateWorks has granted over $1.3 billion to more than 600 grantees in over 40 countries.
About Ocean Visions
Ocean Visions Inc. brings together leading oceanographic research and academic institutions with private sector and public-interest organizations to design and advance solutions to the growing threats to our ocean. We are committed to reversing the climate crisis in the ocean, increasing the resilience of coastal systems and communities to climate impacts, and building a climate-resilient aquatic food system. To learn more, visit www.oceanvisions.org or follow @Ocean_Visions on Twitter.
Published October 28, 2021
Media Contact