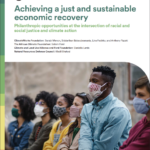 The Covid-19 pandemic, its economic impacts, and demonstrations for social and racial justice were key inflection points around the globe in 2020. At the same time, we continued to see growing impacts from climate change throughout the year — from fires, heat waves, droughts, and poor air quality, to impacts on fresh-water resources, food, migration, and national security. While racial and social justice and climate change may have once seemed like disparate issues, the pandemic clearly demonstrated that many of the global issues we face are interconnected, and how a shock to one vulnerable piece of our global system can have far-reaching impacts in other areas of our lives. Now, as the world begins to recover from Covid-19, we face a crucial moment to step up climate action, in order to facilitate a smooth economic recovery today, and to avoid incurring crippling costs later on from a rapidly warming climate.
In a new Global Intelligence brief, we explore the systemic interconnections that drive our modern world and impact the global climate, and explain why a holistic, integrated perspective is required to solve the most pressing societal issues we face today. We then provide a brief overview of government and philanthropic spending aimed at Covid-19 recovery. Finally, we examine in greater detail eight examples of initiatives in Brazil, India, South Africa, the U.S., and around the world that philanthropy has or could begin to support, focusing on where equity issues intertwine with social and racial justice, climate, and/or economic recovery goals.
By providing concrete examples of such initiatives, these case studies can help funders understand opportunities and effectively allocate their resources as the world emerges from an unprecedented global disruption driven by the Covid-19 pandemic.
Learn more
Contact us to learn more about philanthropic strategies that support racial and social justice as well as climate change mitigation.
Published January 25, 2021
Downloads