All Resources
Build Clean: Industrial Policy for Climate and Justice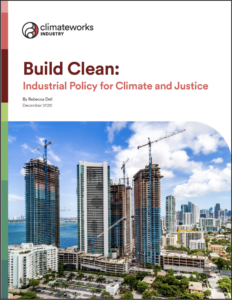 The industrial sector—manufacturing, mining, construction, waste processing—is responsible for more than a third of greenhouse gas emissions globally and in the United States. We cannot reach a climate goal of net-zero greenhouse gas emissions by 2050 without getting on a path to net-zero emissions within the industrial sector.  However, the industrial sector has historically received far less attention from advocates and policymakers than sectors like power and transportation, and the policy tools needed to achieve emissions reductions are not as well known or widely implemented.
In a timely new report, ClimateWorks Industry Director Rebecca Dell lays out a comprehensive approach, applying well-known policy tools in new or expanded ways to reduce greenhouse gas emissions and local and legacy pollution from the American industrial sector.  She makes the case for how improving the environment strengthens manufacturing, increases employment, and creates enormous opportunities for just and equitable economic development. Through smart policy, the United States can simultaneously make progress on the intersecting crises of climate change, Covid-19, economic recession, and racial justice.
The report identifies four pillars for transforming American industry:
Create markets and demand for products that are made in a clean way;
Invest in technological progress at every stage, from research and development to commercial viability;
Make sure that everyone has an opportunity to participate in and benefit from our new industrial policy; and
Significantly strengthen governance and coordination of action across the industrial sector.


…
Learn more
Contact us to learn more about industry-specific climate change mitigation opportunities, funding trends, and strategy development.
Published December 17, 2020
Downloads