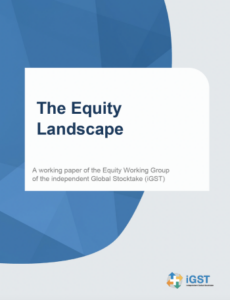 Equity is a core principle of the Paris Climate Agreement. The Global Stocktake, which tracks the Agreement's implementation, must use this lens to assess the world's collective progress towards ending the climate crisis. But key questions remain: How is this sprawling equity agenda to be understood, and which parts of it are to be operationalized, and how?
The Paris Agreement has laid out broad definitions of equity. This includes the notion that countries can contribute to the goals of the Agreement based on their capabilities or acknowledging the need to center climate justice, gender equality, human rights, intergenerational equity, and the rights of Indigenous peoples. It also includes just transition, ending hunger, and the right to development.
But as countries ramp up their work to meet the urgency, the equity agenda has lost priority and definition.
In this context, the Equity Working Group of the independent Global Stocktake (iGST) consortium maps the key features of the international climate governance landscape, with the specific goal of identifying the core equity challenges that are essential.
See additional recommendations for how to consider equity in the Global Stocktake here.
Published May 17, 2022
Downloads