All Resources
Funding trends 2021: Climate change mitigation philanthropy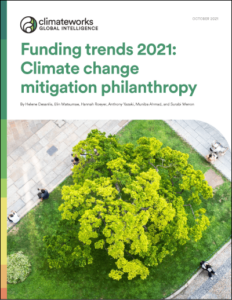 Last year, ClimateWorks Foundation published the first-ever report revealing that less than 2% of global philanthropic spending in 2019 was dedicated to climate change mitigation.
In our new annual update to that report, we find that although climate change mitigation philanthropy has experienced meaningful growth over 2020, it still remained below 2% of total philanthropic giving worldwide and is not nearly sufficient to meet the rapidly growing intensity of the climate crisis.
To find out more, download the full report, which provides further detail on key trends as well as funding flows to specific regions and sectors. This information will allow funders to better understand:
Gaps and opportunities for increased investment;
How a funder's strategies map to existing resources;
What strategies other institutions may already be funding;
Emerging partnerships opportunities, and much more.
Learn more
Contact us to find out more about ClimateWorks Foundation's data on philanthropic funding for climate change mitigation and how it compares to mitigation needs.
Published October 7, 2021
Downloads
Authors