All Resources
Funding trends: Climate change mitigation philanthropy
By Hannah Roeyer, Muniba Ahmad, Meagan Fox, and Surabi Menon
Background: ClimateWorks Global Intelligence provides insights to support climate funders in building and executing transformative climate strategies. As part of this service, ClimateWorks tracks the landscape of philanthropic giving for climate change mitigation.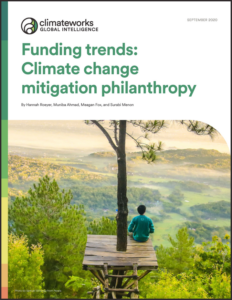 The world is facing a global crisis on an unprecedented scale. If the international community does not take transformative action to combat climate change, people and communities will face increasingly dire consequences from rising global temperatures — extreme storms, droughts and wildfires, mass species extinction, new infectious diseases, famines, civil strife, and more. Some of these impacts are already becoming commonplace in the daily news.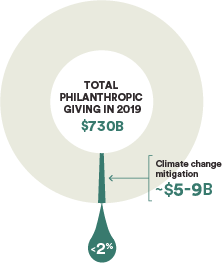 However, ClimateWorks' latest research reveals that less than 2% of global philanthropic giving is dedicated to climate change mitigation — not nearly enough to meet the scale of the global challenge. Although the field of climate change mitigation philanthropy has been developing rapidly, it clearly has immense room for rapid and sustained growth.
To find out more details, download our Funding Trends brief, which leverages our one-of-a-kind data on funding flows to produce key insights for climate change mitigation philanthropy, including a breakdown of foundation funding for climate change mitigation across regions and sectors. The brief enables funders to:
Better understand the relationship between where funding is most needed and where it is going,
Scope new strategies and refine their existing work,
Identify emerging partnership opportunities, and much more.
ClimateWorks extends our gratitude to the many partners whose data contributions have made the analyses in this brief possible.
Learn more
Contact us to find out more about ClimateWorks Foundation's data on philanthropic funding for climate change mitigation and how it compares to mitigation needs.
Published September 24, 2020
Downloads