All Resources
Philanthropic climate priorities under Covid-19 recovery scenarios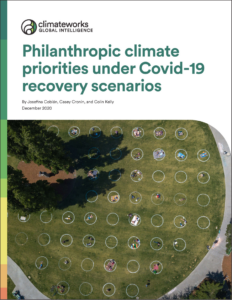 Given the unrelenting twists and turns of 2020, many people are reflecting on what the future may hold in a post-pandemic world. Similarly, many institutions have created scenario-based assessments of what could be on the horizon. While new developments unfold, such as deployment of Covid-19 vaccines and a transition to a new U.S. administration, these studies offer valuable insights about addressing the climate crisis under a wide range of uncertainties.
In this brief, we present an overview based on the most useful scenarios for developing effective climate philanthropy strategies amid high levels of uncertainty. Based on our conclusion that we are likely to experience a bifurcated, uneven recovery — meaning that certain advantaged groups will experience a strong economic recovery, while more vulnerable groups are likely to face an extended economic downturn — we urge donors, when possible, to step up their giving for people and the planet. We also offer five takeaways to inform strategic planning and decision-making in the next year.
Stay focused on the highest emitting geographies. What the world's major economies do in the next 12-18 months matters significantly.
Monitor core structural elements of low-carbon economic recovery — such as emissions intensity of GDP — in key sectors such as power, transport, industry, and others.
Seek to better understand what makes some strategies more resilient than others across a broad range of scenarios.
Plan for multiple futures and expect to see a complex amalgamation of the scenarios considered.
Explore increasing climate impacts, which, as 2020 has shown, can further disrupt an uneven and unequal economic recovery.
By helping climate philanthropy to consider multiple scenarios in planning for the post-Covid period, this brief will support decision-making toward robust strategies that tackle the climate crisis while providing multiple important benefits to people and the planet.
Learn more
Contact us to learn more about economic recovery scenarios and how they intersect with philanthropic opportunities for climate change mitigation.
Published December 18, 2020
Downloads