Road transportation, aviation, and marine shipping are fundamental to modern life, but today they carry enormous societal costs — driving climate change, degrading human health, and disproportionately affecting already marginalized communities. 
In this brief, we outline climate philanthropy strategies to effectively decarbonize the transportation sector across road transport, aviation, and shipping. Analyzing greenhouse gas emissions data and modeling, field intelligence from around the world, and various enabling levers available to philanthropy, this brief includes:
A creative vision of what sustainable transportation can look like in 2050. 

A breakdown of where the world is today, including a close examination of the mechanics of mitigation that add up to the full solution space across the transport sector. 

An exploration of how philanthropy's enabling levers can be applied in the sector. 

Field intelligence on how ClimateWorks and the climate philanthropy ecosystem are poised to build on recent momentum toward a more sustainable global transport system.
This brief provides a framework for philanthropic strategy development and is intended to help funders make effective investment decisions.
A vision for 2050
The world's transportation system needs dramatic transformations by 2050 in order to align with a safe long-term climate. The system we envision provides sustainable transport with equitable access for all, through electrified road vehicles as well as airplanes and ships powered by innovative clean energy. Achieving this vision will require coordinated action, increased ambition among governments and businesses, and strong grassroots support. Immense challenges remain, but success would bring massive benefits for the climate, the economy, public health, equity, and justice. We see the 2020s as a pivotal decade for creating momentum toward this vision.
Mechanics of mitigation
Done right, reducing emissions from the transportation sector will simultaneously deliver better air quality and health outcomes, including reduced cardiovascular and respiratory diseases and premature deaths, and save billions of dollars in reduced transportation costs. By 2050, this will result in around 13% of the total needed annual emissions reductions to remain on track to achieve Paris Agreement targets (mitigation of around 9 Gt CO2e out of 71 Gt CO2e required by 2050). As measures scale up, the share of reductions grows to one-fifth of needed reductions by the end of the century (around 20Gt CO2e out of 100 Gt CO2e required by 2100).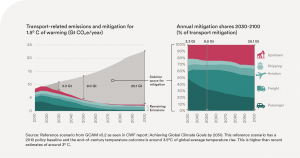 Philanthropy's levers in action
We describe "enabling levers" as philanthropy's tools to help drive emission reductions. While the goal is a transition toward lower emissions, these levers are indirect, as they attempt to establish the enabling conditions for implementation of climate policies at multiple levels of government and society at large. Programmatic strategies utilize these levers to differing degrees and many deploy them simultaneously. In this brief, we provide definitions of seven broad categories of levers as well as examples of how ClimateWorks has used these levers within each of the transportation subsectors of road, aviation, and shipping.
Field intelligence
In order to help the philanthropic community respond to the climate crisis, ClimateWorks Global Intelligence provides insights to support climate funders in building and executing transformative climate strategies. As part of this service, ClimateWorks maintains the Climate Funding and Grantee Landscape, which reveals climate strategies, grants, and funding flows from major foundations. In this brief, we highlight key Funding and Grantee Landscape data from 2015-2019 across all transportation sectors, highlighting key trends for funders to consider as they develop strategies for transport decarbonization.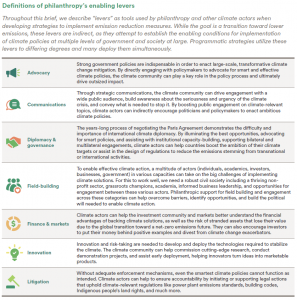 Learn more
Contact us to find out more about our programmatic work across the transport sector, our partner-driven coalitions, and the climate philanthropy strategy development process.
Published July 1, 2021
Downloads