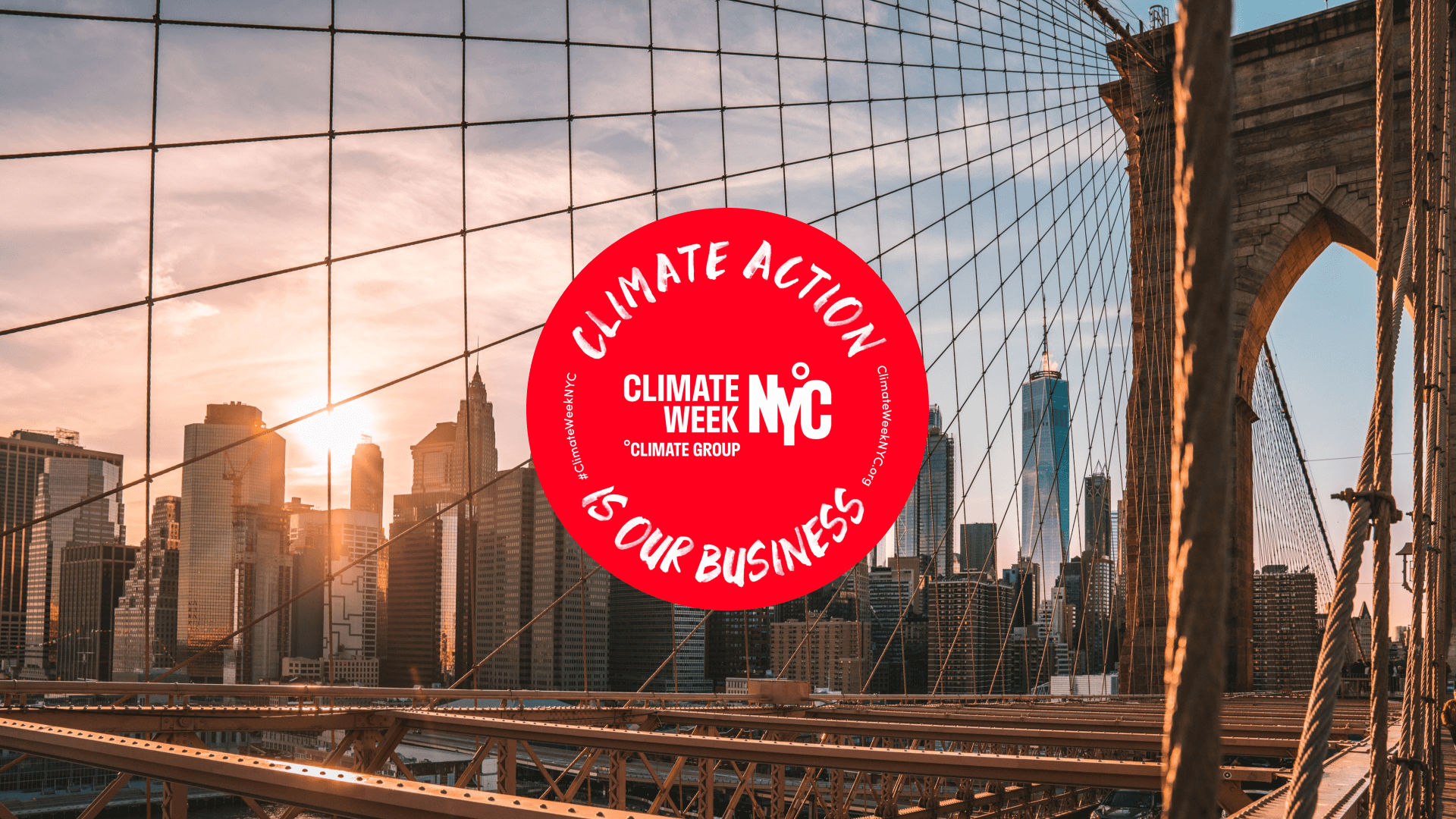 Published September 14, 2023
Here's how you can follow ClimateWorks and our global partners during Climate Week.
Climate Week NYC gathers leaders from the public and private sectors for hundreds of events, in person and online, from September 17-24, 2023. This is an opportunity to galvanize momentum for increased climate ambition and solutions that equitably address the urgent issues communities worldwide are contending with today.
ClimateWorks and our partners will be on the ground engaging in and leading some of the important discussions at Climate Week. Whether you're joining in-person or online, below are some key events to keep in mind.
ClimateWorks at Climate Week:
The great transport divide: Harnessing collective efforts for electric vehicles in the Global South
Monday, Sept 18; 11:55 AM – 12:50 PM EDT – link to register
Road transport is responsible for 15% of CO2 emissions worldwide. As we increase the speed of transport electrification, we must make sure the switch to EVs happens globally and the benefits to air quality and health are distributed equally. Looking to Latin America and India, it's clear that the switch presents both challenges and opportunities. Collaboration between governments and the private sector will be critical to the Global South'Manuel electrification journey. ClimateWorks' Associate Director, Road Transportation Lina Fedirko will be the keynote speaker for the session.
Hosted by Climate Group
The strength to lead: Kicking the coal habit and placing steel at the heart of the green economy
Monday, Sept 18; 11:55 AM – 12:50 PM EDT; Link to register
Steel is the world's most widely used material – a vital part of the infrastructure we will need in the net-zero cities of the future, yet the production of steel is one of the biggest sources of global greenhouse gas emissions. The last few years have seen an upsurge in low emissions innovation in the sector and technological investment, but at the same time a host of barriers from technical challenges to companies facing significant commercial and structural barriers continue to hamper progress. Climate Group's SteelZero initiative sends a signal to steel makers that demand for net-zero steel is growing – but there is a long way to go. We'll be asking, what will the future hold for net-zero steel amid an increasingly fragmented supply chain. ClimateWorks' Senior Director, Industry, Rebecca Dell, will speak at this event.
Hosted by Climate Group
Trade Policy Impacts on Climate – Opportunities and Challenges
Tuesday, Sept 19; 9:00 AM – 12:00 PM EDT
What are the implications of global trade flows for climate change and the clean energy transition, how do they intersect with programmatic strategies, and how can climate mitigation philanthropy constructively engage on this topic? This event will explore the impact of the EU CBAM, US IRA and BIL, and trade policy more broadly on climate ambition and emerging economies. We will bring together regional experts on the implications of CBAM implementation and other climate/trade policy levers for emerging economies, what the geopolitical responses are and how civil society and climate mitigation philanthropy could and should respond. ClimateWorks' VP, Programs, Charles McElwee will speak at this event.
Hosted by African Climate Foundation and ClimateWorks Foundation
Making Corporate Data Work For Climate Disclosures – Carbon Call
Wednesday, Sept 20; 11:00 AM – 1:00 PM EDT; link to register
At Climate Week NYC 2023, the Carbon Call is bringing together its members, regulators, standard setters and philanthropies to present actionable solutions that help companies overcome constraints faced when gathering, interpreting and sharing GHG data. These plans – covering the discoverability of data, metadata requirements and a smart digital dictionary, aid companies to deliver on regulatory drivers such as reporting mandates, as well as voluntary disclosures and tracking climate targets.
Hosted by ClimateWorks.
Equipping the Climate Community for the Transition – Building the system for accountability
Wednesday, Sept 20; 2:00 – 4:30 PM EDT
The workshop will be a deep dive into stakeholder priorities and data needs, along with a discussion on how we can better align and collaborate with a focus on unpacking how the existing tools can be adopted or strengthened to meet the needs of a range of levers for accountability.
Hosted by ClimateWorks and ClimateArc
Food Day at the UN General Assembly
Wednesday, Sept 20; 8:45 AM – 5:00 PM EDT; link to register and watch online
Join the Rockefeller Foundation, WWF, the Global Alliance for the Future of Food, and media partner Food Tank, for Food Day on Sept 20th alongside the UN General Assembly SDG Summit 2023 and Climate Week NYC. The special Livestream event will offer global framing for the nexus of food and agriculture, climate, nature, health and finance; key challenges; and pathways for a sustainable, equitable and inclusive food system.
Hosted by Rockefeller Foundation, WWF, the Global Alliance for the Future of Food, and Food Tank
Trailblazing, failing and setting sail: A quest for food systems innovations
Thursday, Sept 21; 9:00 AM – 2:00 PM ET; Link to register
The event will bring together experts from diverse backgrounds, uniting stakeholders across the food system, including youth. We aim to cultivate a community that champions systemic innovation and technology. By fostering collaboration, we strive to inspire action towards a resilient, inclusive, and sustainable food future.
Hosted by Clim-Eat
The Indian G20 Presidency – Sparking Climate Action for COP28
Thursday, Sept 21; time to be confirmed
The event will focus on amplifying India's G20 presidency successes and sparking dialogue on continuity with Brazil. It will invite key officials from India's G20 presidency, including incumbent G20 chairs of the Development Working Group, Energy Transition Working Group, Environment and Climate Sustainability Working Group of the Sherpa track, and chairs of the Business20 Engagement group and the Think20 Engagement group. The conversation will also bring an emerging economies perspective on collaborative global efforts for decarbonization, scaling investments, climate finance and supply chains. This event will be followed by a conversation at COP28.
Hosted by ClimateWorks Foundation and ICC.
ClimateWorks Partners at Climate Week:
The March to End Fossil Fuels
Sunday, Sept 17; 1PM; 56th & Broadway, NYC – Link to more details
The United Nations is calling on world leaders to take real steps to lead us off fossil fuels to protect people and the planet. On September 20th in New York, the UN Climate Ambition Summit will gather world leaders to commit to phasing out fossil fuels. Thousands of us will take to the streets before the summit to demand President Biden take bold action to end fossil fuels.
Road to success: picking up the pace of electrification in the heavy-duty freight sector
Monday, Sept 18; 1:45 PM EDT – Link to register & watch online
Heavy trucking is responsible for more emissions than the aviation and shipping sectors combined. Work to electrify lighter vehicles is well established and gathering pace, but we can't ignore the heaviest, dirtiest vehicles on the road if we're to meet our climate targets. How can we ensure that trucks aren't being left behind? What needs to happen, who needs to take the lead, and how can the transition benefit people and businesses?
Hosted by The Climate Group.
The Earthshot Prize Innovation Summit
Tue, Sept 19; 12:30 PM EDT – Link to register & watch online
Taking place during New York Climate Action Week and the 78th Session of the UN General Assembly, the Summit will convene previous Earthshot Prize Winners and Finalists with policymakers, global business leaders, philanthropists, and climate activists to scale their innovative solutions. Prince William, founder of The Earthshot Prize, will attend alongside Michael R. Bloomberg, the UN Secretary-General's Special Envoy on Climate Ambition and Solutions and Global Advisor to the Winners of The Earthshot Prize.
Hosted by the Event by The Earthshot Prize and Bloomberg Philanthropies
Catalyzing Action for Managed Coal Phaseout
Tuesday, September 19, 2:30-3:45pm EDT – Private Roundtable
Coal power generation is the largest source of carbon emissions globally, and coal -fired generation reached an all-time high in 2022. It is expected to rise for several years further in Asia Pacific (APAC). While the recent uptick in coal-fired generation is likely to be a temporary glitch in some regions, the overall trend is not on track with the International Energy Agency's Net Zero Emissions by 2050 Scenario. Progress will need to be made as part of wider energy transitions, implemented through greater ambition in country-specific commitments and policy reform, and catalyzed through by global policy frameworks and financing solutions. PPCA, Bloomberg Philanthropies and GFANZ are convening global key stakeholders for a private roundtable to discuss the enabling policy environment and financing approaches needed to facilitate the accelerated phaseout of coal assets. This roundtable aims to bring momentum to the managed coal phaseout agenda by identifying what is needed to drive progress and advance pioneering transactions.
Hosted by Powering Past Coal Alliance (PPCA), Glasgow Financial Alliance for Net Zero (GFANZ), and Bloomberg Philanthropies.
Accelerating to a Zero-Emission Transportation Sector
Tuesday, Sept 19; 3:00 PM EDT – Link to register & watch online
Signatories to the Zero Emission Vehicles (ZEV) Declaration signed on to the global pledge to ensure that all new car and van sales be zero emission by 2040 globally, and by 2035 in leading markets. This level of ambition is critical to avoiding the worst impacts of climate change and will help tackle air pollution, reduce oil dependency, and deliver new jobs. This session will showcase the current progress of ZEV Declaration signatories in reaching this ambitious target and further discuss the importance of a zero-emission transportation sector. Featured senior leaders from across the eight distinct signatory categories will share key insights from their ZEV transitions, including lessons learned and their vision for the future.
Hosted by the Accelerating to Zero (A2Z) Coalition.
Reducing NYC Transportation Emissions: the ZEV for NYC Act
Wednesday, Sept 20; 6:00 pm EDT – Link to register & watch online
Transportation accounted for 28% of NYC's emissions in 2021. City government has been increasing the purchase of electric vehicles (EVs), but it has not yet deployed a significant percentage of the municipal fleet as 100% zero-emission vehicles (ZEVs). ZEVs eliminate direct emissions and dramatically reduce indirect emissions. The ZEV for NYC Act sets intermediary ZEV purchasing deadlines and requires the City to transition most of its fleet to ZEVs by July 1, 2035. (The NYC Council may vote on the ZEV for NYC Act before this event.)
Hosted by the Sierra Club, the Union of Concerned Scientists, and C40 Cities.
Real Solutions or Expensive Distractions: Proving or Disproving Ocean-based Carbon Dioxide Removal in the Next 5 Years.
Friday, Sept 22; 9 AM – 12 PM EDT – Link
There is growing interest in ocean-based CDR techniques, but key questions remain about how effective they are in drawing carbon dioxide out of the atmosphere and durably storing it, as well as their environmental effects and safety. This session will provide an overview of what we know, and don't yet know, about ocean-based CDR and what we need to do to get actionable information.
This event is organized by Ocean Visions & Sabin Center