Published November 16, 2020
With a $50 million grant from the Bezos Earth Fund, ClimateWorks will scale up global initiatives to advance climate-friendly commercial trucking, marine shipping, and cement and steel production.
Today, ClimateWorks is pleased to announce that we are among the first grant recipients of the Bezos Earth Fund. Our grant will focus on three critical areas for climate action: zero-emission trucks, zero-emission shipping, and climate-friendly cement and steel production.
These initiatives offer tremendous opportunities to achieve large-scale emissions reductions, catalyze new technologies and economic growth, and benefit people and the planet. To realize these goals, ClimateWorks is applying more than a decade of experience and partnerships to drive coordinated action and results around the world.
Working together, we can achieve the Paris climate goals, but we need to do more, faster, and philanthropy has a crucial role to play. Global climate mitigation philanthropy must grow — from less than 2% of global giving today, with work on equity and justice receiving a very small fraction of that total — to the scale required to meet the challenge. The Bezos Earth Fund is an essential new addition to the climate philanthropy community. Its $10 billion commitment is game-changing, and its initial grants will support critical progress to mitigate climate change and improve lives. We look forward to working with the Earth Fund as ClimateWorks continues on our mission to end the climate crisis by amplifying the power of philanthropy.
As the world recovers from Covid-19, we have extraordinary opportunities to build back better by taking bold actions to end the climate emergency, advance racial and social justice, and protect the thriving planet we all share. With the Bezos Earth Fund's support, ClimateWorks and our initiative partners are committed to driving progress in these areas through the critical initiatives described below.
Catalyzing Zero-Emission Trucks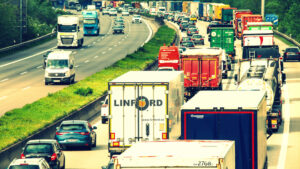 Commercial trucks are the lifeblood of our global goods movement system. They also produce about one-third of global transport climate pollution and a disproportionate share of the air pollution that damages human health. This project will leverage advances in battery technologies and the policy precedent recently set by California to catalyze a transition to zero-emission commercial trucks through corporate leadership and smart government policy. This project is a key piece of ClimateWorks' global strategy to accelerate zero-emission road transport.
As part of this strategy, ClimateWorks supported a coalition that helped California adopt a groundbreaking clean truck policy in 2020 that will ensure that half of all new trucks sold in California are zero-emission by 2035. This was followed by an agreement between California and 14 U.S. states plus the District of Columbia to pursue 100% sales of zero-emission trucks before 2050, and a California governor's order targeting 100% zero-emission trucks by 2045.
These leading-edge policies offer national and international models as governments and businesses look to meet their climate commitments, lead on clean technology innovation and jobs, and dramatically reduce air pollution that disproportionately affects the health of communities living near ports and freight corridors. This project will support broad coalitions to encourage uptake of similar policies in other leading jurisdictions.
Launching Zero-Emission Ships
Fully 90% percent of the world's freight moves by ships, generating planet-warming emissions that rival that of U.S. coal. And air pollution from ships damages human health; experts estimate that emissions from international shipping lead to more than 60,000 deaths a year.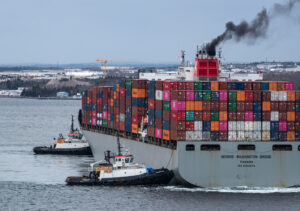 To date, governments and the industry have set long-term goals to decarbonize shipping, but there aren't enough ships on the water using clean fuels to give confidence that those goals can be reached.
Through this initiative, we will work with partners around the world to establish demand for the first zero-emission ships to be put on the water, with the first ports ready to provide clean fuels. Partners will include leading businesses and ports, experts in the technologies and policies needed to eliminate shipping emissions, local environmental justice groups seeking to reduce pollution in their communities, and other stakeholders.
Creating Markets for Climate-Safe Cement and Steel
We cannot solve the climate crisis without dramatically reducing emissions in the industrial sector — to nearly zero by 2050. Today, cement and steel together generate about six gigatons of CO2 per year, roughly 15% of global CO2 emissions. About half of cement and one-fifth of steel is purchased with tax dollars to build roads, railroads, water systems, public buildings, and other public works. If governments preferentially purchased cement and steel with a low carbon footprint, they would create enormous new markets and business opportunities that could dramatically accelerate the deployment of clean cement and steel.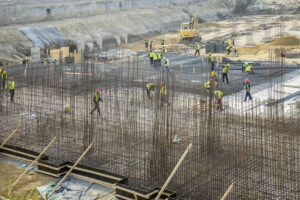 Since 2017, ClimateWorks has been working with partners to help governments use public procurement to create markets for low carbon building materials. Early work enabled the passage of the Buy Clean California Act, the first law of its kind, which limits CO2 emissions produced in the manufacture of key building materials used in any construction project funded by the state of California — worth well over $100 billion in the next 10 years.
This initiative will work with stakeholders to bring the Buy Clean approach to other jurisdictions to expand the market for green steel and cement, drive business innovation, and reduce the emissions that cause climate change.
Looking ahead
Climate change is one of the greatest threats facing humanity, and philanthropy has a pivotal role to play in meeting this threat. Reacting to the significance of the Bezos Earth Fund and its initial grantmaking, Larry Kramer, president of the William and Flora Hewlett Foundation and a ClimateWorks board member, stressed the urgency of the challenge, saying, "these grants to ClimateWorks and other leading climate-focused organizations are a tremendous boost at a pivotal moment." We agree and look forward to making big, near-term gains to set trucks, ships, cement, and steel on the path to a sustainable future in which everyone can thrive.