Published August 31, 2023
As part of our ongoing efforts to embed justice, equity, diversity, inclusion, and belonging (JEDI) into all that we are and all that we do at ClimateWorks, we are sharing some reflections on where we've made progress toward our goals in 2022 and what we are learning.
Three years ago, ClimateWorks developed a set of deep commitments to JEDI to anchor our organization's guiding principles. They inform the work of our programs and our external engagement with our community of funders, implementing partners and grantees, and other partner organizations. These commitments also inspire how we design our organizational processes and policies, and how we engage our staff of 170+ talented, committed ClimateWorkers.
Cultivating lasting cultural transformation
ClimateWorks has grown significantly over the past couple of years as we have expanded our capacity to meet the needs of the fast-growing climate philanthropy community with increased attention and resources toward just and equitable climate solutions. While most of our employees are based in the United States, intentional changes to our hiring practices and hiring in geographies where our work is expanding have added to our regional, racial, and ethnic diversity.
Today, 49% of ClimateWorks US-based employees self-identify as Black, Indigenous, or People of Color, and we have 18 employees based in Asia, Africa, Europe, and Southeast Asia. In 2018, when we first began reporting our diversity data to Green 2.0, we did not have international staff onboard. Our increase in global diversity started in 2021 and has expanded year over year since then. We credit this progress to steps we took starting in 2017 to rethink our hiring practices, this allowed us to mitigate systematic biases that unintentionally impacted equity outcomes. This progress included a partnership with expert practitioners who assisted us in redesigning our hiring framework. It also included staff interviews pertaining to culture, and our first intentional diversity-related data collection.
We've embraced the added layers of complexity that our expanded diversity and global growth have added to our evolving culture. With the support of our international JEDI advisors that we engaged in 2022, we're learning how to effectively meet the needs of our diverse staff, provide training, tools, and resources, navigate geopolitics and sensitivities in our communications and interactions, and meet the unique in-country needs of the people served across demographics.
One fundamental way we're ensuring our culture reflects our commitment is through new JEDI values, principles, and definitions. Developed over 18 months by our staff and in consultation with our JEDI advisors and partner organizations, and members of the climate philanthropy community, these pillars ground our commitment to justice and equity by guiding what we do and how we do it.
JEDI resonates deeply within our organization. A recent survey showed that 96% of ClimateWorks staff agree JEDI is critical to our success as an organization. As we move from design to implementation, we are attuned to maintaining this overwhelming support, engagement, and shared ownership at all levels of our organization.
"I respect how the staff, the leadership, and the Board are committing authentically to the equity journey. This is hard work individually, culturally, and systemically but it is worth the struggle to advance fair and just climate solutions for all communities. It's those communities that have it harder still, which is why the equity work matters," remarks ClimateWorks' JEDI Advisor, Richard Woo.
Tangible steps to fulfill our commitments
We have learned that climate solutions are more successful and enduring when they center people and engage those most impacted by the climate crisis. Putting people at the heart of climate action is our next-level approach on our road to accountability. We are proud of the progress we're making to meticulously evaluate our internal and external practices to genuinely reflect the diverse voices and communities we serve.
"Being as global and inclusive as the challenges that we seek to address is critically important. At this moment in history, ClimateWorks Foundation has made an important commitment to embracing, in the fullest sense, justice, equity, diversity, and inclusion, both in terms of the internal functioning as well as in terms of the global role. This journey is far from complete and is still in its early stages, but it's a journey that is being taken seriously and one that I've been pleased to actively support," says ClimateWorks' JEDI Advisor, Dr. Kumi Naidoo.
From cooling access to energy transition, we are investing in sectors and geographies to support inclusive, co-created solutions that are locally led and responsive to communities disproportionately impacted by the climate crisis. Through our Justice and Equity Collaborative Learning Pilot Fund (or JEDI Pilot Fund), we're trying new grantmaking approaches rooted in equity, trust, and mutual accountability. The JEDI Pilot Fund allows us to learn alongside our implementing partners and apply those lessons to our broader global programs and grantmaking. We're just getting started and are excited about how the JEDI Pilot Fund is bringing new ways of working to life.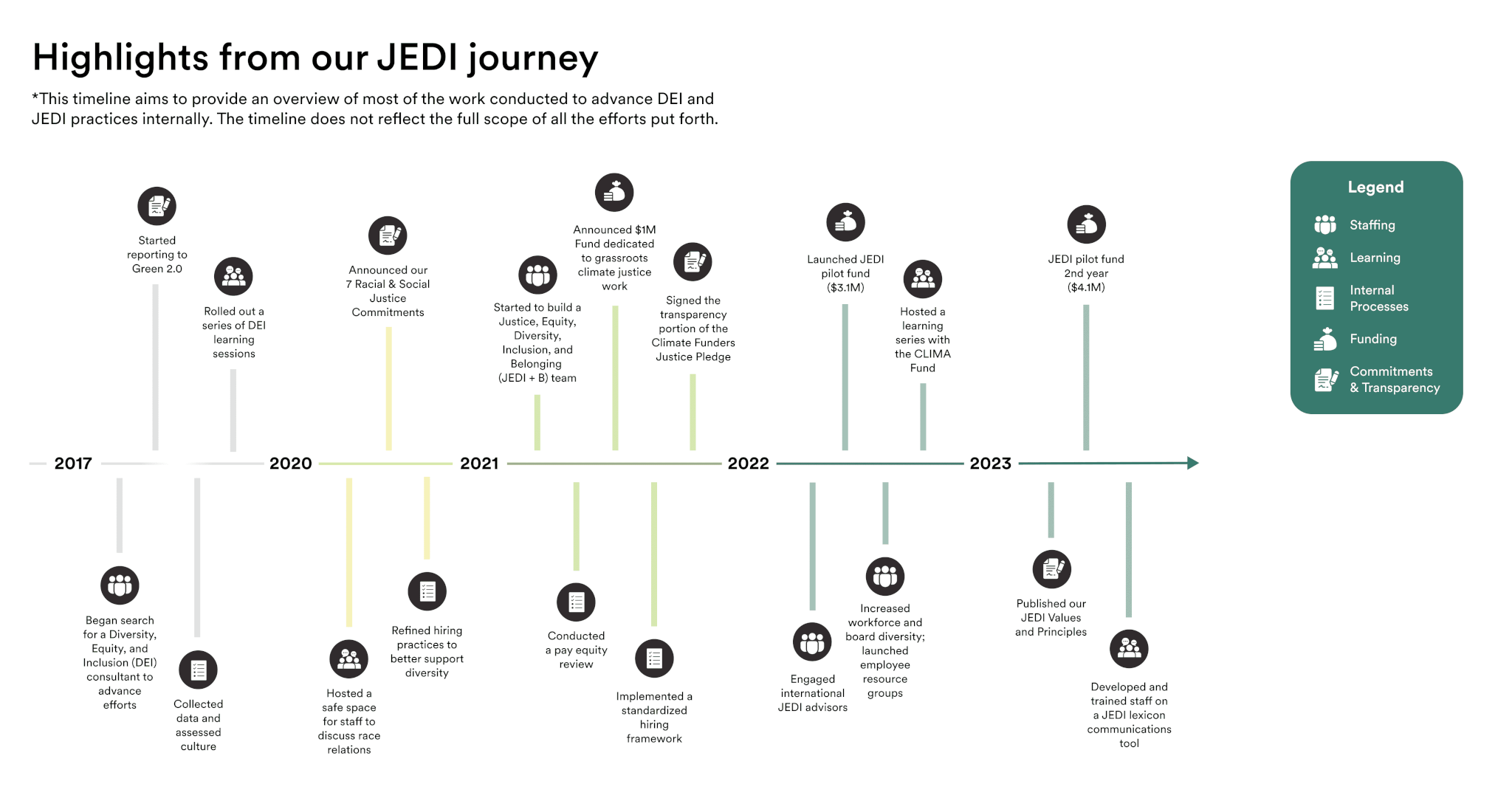 What's next on our JEDI journey
As we focus on solutions, the inequities exacerbated by extreme climate related occurrences must not be diminished, compounded, or deemed as normal. As global citizens, we must accept that communities across the globe that are disproportionately impacted by climate change have the power to restore their livelihoods, adapt to the changes, and design solutions that center local economic, health, and social priorities.
The global surge in climate catastrophes – spanning from the fires in Maui, to the record-shattering heat indexes [testing the limits of human survival] in the Middle East, to the existential threats facing small island developing states – come with a spike in climate- or eco-anxiety. The crisis is taking a mental health toll on people at rates never reported before, with increasing prevalence among climate-vulnerable individuals, survivors, and the youth.
Our awareness of the magnitude and complexity of the climate crisis should not defeat us. It should serve as a realistic indicator by which we set accurate climate targets and approaches, as we seek to inform ourselves to strategically step up ambition. We must endeavor to prioritize inclusive processes and strategies that transform inequitable systems and ensure individual and planetary wellbeing.
Moving ahead, we will continue to deepen the integration of JEDI across all aspects of our organization and work. This includes developing clear metrics to raise our ambitions, identify gaps, and hold ourselves accountable; applying more resources to support the implementation of our new JEDI principles; and increasing engagement with our funding and implementing partners, JEDI advisors, and other experts.
"During this period of multiple global crises and its impacts on the most vulnerable and marginalized across the world, it has been inspiring to experience ClimateWorks Foundation's leadership in addressing the issues of climate justice and equity head-on, both for its internal transformation as well as its programmatic impacts. It has been a real honor to support ClimateWorks in this courageous effort," reflects ClimateWorks' JEDI Advisor, Tasneem Essop.
While we're far from our desired destination, the progress we made last year has better positioned ClimateWorks to be more collaborative and inclusive than ever. Together with our funding and implementing partners, we can take on the climate crisis at the pace and scale it demands to better serve people, communities, and our planet.