All Resources
Foundation funding for climate change mitigation: China spotlight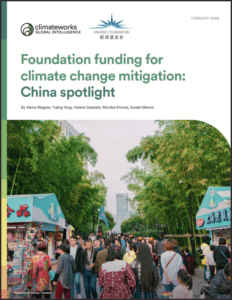 There can be no global solution to climate change without ambitious action by China, the world's most populous country and largest emitter of greenhouse gases. While China has signaled strong support for climate action and established a series of medium- and long-term targets, their transition to a zero-carbon economy faces a challenging road ahead.
This report summarizes trends in philanthropic support for climate action in China over the period 2017-2020. We provide an overview of funding trends from international donors, local philanthropy, and government aid.
As philanthropies consider how and where to scale up future climate investments, this report provides baseline data on the landscape of current donors and grantees supporting climate change mitigation in China and helps to inform discussions on future investment priorities and field-building to support decarbonizing the world's largest emitter. We also identify currently underserved opportunities for scaled-up philanthropic investment in China.
We encourage philanthropies interested in China to download this report and get in touch. There are around two dozen international foundations—including Energy Foundation China and ClimateWorks Foundation—actively funding projects supporting China's decarbonization. Together, we can support accelerated climate action in China and around the world to avoid the worst impacts of the climate crisis and achieve a 1.5° C future.
Contact us to learn more about key trends in climate change mitigation funding and to start building your own funding strategy.
Published February 15, 2022
Downloads
Authors