A new report released by Public Citizen and Americans for Financial Reform in partnership with ClimateWorks Foundation lays out specific recommendations on how financial regulators can equitably address climate risk.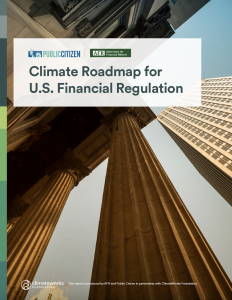 Managing climate-related financial risk is essential not just for responding to the climate crisis, but also for tackling the current economic crisis and promoting long-term growth and financial stability. To date, U.S. financial regulators have done little regarding climate-related risks.  Addressing climate risk is therefore a critically urgent task for financial regulators and one for which they have both the legal authority and the tools necessary to act.
This report, prepared with the input of dozens of experts, advances climate financial reforms by providing a detailed "playbook" for financial regulators to integrate climate risk into their oversight responsibilities. It is organized in three broad parts:
Part one: Personnel, staffing and agency organization across the system
Part two:  Supervision and prudential regulation
Part three: Capital markets regulation
The recommendations comprising this report were prepared in the lead-up to the Biden Administration taking office and were shared widely with the incoming administration and its advisors.
---
Report Authors:
David Arkush, Director, Climate Program, Public Citizen
Ty Gellasch, Fellow, Global Financial Markets Center, Duke University School of Law
Erik Gerding, Professor of Law, University of Colorado School of Law
Alexis Goldstein, Senior Policy Analyst, Americans for Financial Reform
Heather Slavkin Corzo, Senior Fellow, Americans for Financial Reform
Published March 31, 2021
Downloads