All Resources
Five 2020 highlights from the ClimateWorks Carbon Dioxide Removal Program
Authors: Frances Wang, Jan Mazurek (PhD), and Tracy Johns
2020 was an unprecedented year, both for the world and for the field of carbon dioxide removal (CDR). It was the year that public, private, and non-state actors finally got on the same page about the inescapability of carbon dioxide removal to meet Paris Agreement goals. By 2050, we need not only to eliminate carbon emissions, but also to remove approximately 10 gigatons of historic emissions per year to avoid putting Earth on a trajectory for 2°C of warming.
Convergence around the necessity of carbon dioxide removal is evidenced by the exponential rise in support for direct air capture (DAC) and DAC-fuels: 34 policies with CDR provisions were in play in the U.S. and Europe. This has taken center-stage in revising the image of DAC — cultivated over the last four years in the U.S. — as an enhanced oil recovery technology. We shared our concerns around the use of DAC for enhanced oil recovery in our recent blog. In short, we believe there are better alternative pathways to scale up DAC sustainably and equitably. For example, in Europe, direct air capture is envisioned as a wind, solar, and geothermal powered technology for converting historic carbon dioxide in the air into solar fuels for long-haul flights. This would help reduce aviation emissions while also sparing vital farms and forests that might end up providing the biomass to create aviation biofuels instead of producing food.
With significant new CDR procurement provisions recently enshrined in U.S. law and many CDR champions taking up positions in the Biden administration, the country is poised to make good on its climate goals. At the state level, the ClimateWorks CDR Program funded a roadmap, the first of its kind, for taking emissions to zero and removing historic carbon from the air in California. Returning the state's forests to health and using farm waste as an energy source gets California 90 percent of the way to less-than-zero emissions. To complete the task, the roadmap calls for using the state's abundant geothermal heat to sustainably power direct air capture. This effort will also help to generate less-polluting jobs in regions put most at risk by air pollution and Covid-19, such as California's Imperial Valley.
ClimateWorks is proud of our role in funding and guiding the community that has made CDR legislative wins possible. As that community works to sustainably scale direct air capture with wind, solar, and waste heat, we need a deeper focus on how that work could lead to job creation and a rural revival. During the Great Depression, the economist John Maynard Keynes said to give people shovels to dig holes. Our grantees are advocating we use shovels to plant carbon-removing trees and, where sustainable, to treat Western forests that are burning, releasing carbon dioxide, and posing respiratory health dangers to our most vulnerable citizens.
In 2020, we saw many forest-related CDR opportunities come to fruition in forest management, wildfire prevention, and mass timber buildings. In addition, we put ocean CDR on the academic and legislative map. With encouragement from our endowed funders, we've made environmental justice grants and diversified our advisory group. This year, we pledge to bring yet more voices into the CDR dialogue.
Below, we revisit five key highlights of the ClimateWorks Carbon Dioxide Removal Program in 2020. Thank you to all our funders, grantees, and partners for their contributions in advancing the CDR field at a breakneck pace, despite the challenges posed by the pandemic.
1.   Amplifying diverse voices in CDR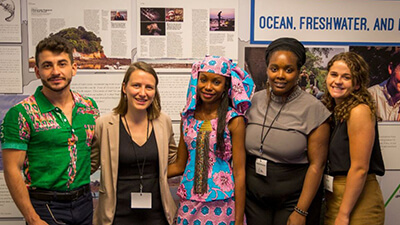 Before our program's grantmaking in 2019, CDR platforms in the U.S. lacked diverse voices from youth leaders, environmental justice groups, and labor unions. In addition to creating multilingual educational materials and forming an advisory committee on environmental justice, our grantees connected with 19 environmental justice groups and secured support for direct air capture from two labor unions. Our grantees also brought more than 4,000 youth leaders into their fold. In rural areas of the Pacific Northwest, those leaders have brought climate-related agricultural and forestry issues to the forefront of the movement through knowledge sharing, storytelling, and capacity building.
As Ugbaad Kosar, at Carbon180, a ClimateWorks grantee and partner, wrote in her recent blog, "the nascency of the carbon removal field creates an opportunity to shape policy decisions around carbon removal and its deployment in a manner that addresses inequities instead of contributing to them." This work must accelerate if we are to address lingering concerns about whether carbon dioxide removal plays a valuable role in climate action. For example, many environmental justice groups still have questions such as the technology's viability at scale, the environmental safety around storing once it has been removed from the atmosphere, and the implications of enhanced oil recovery and land rights. Complicating outreach is the complexity of region-specific environmental justice concerns, which deserve far more philanthropic attention and support. Covid-19 impacts have slowed outreach efforts, but in 2021 we are determined to double our support, starting with the launch of Carbon180's Environmental Justice Initiative, which aims to apply an equity and justice lens to develop and deploy carbon removal solutions.
2. Positioning carbon dioxide removal for U.S. government support
Since 2019, the number of CDR provisions under consideration at the federal-level has more than tripled from 10 to 34, representing $5.4 billion in potential CDR support. Our partners have submitted a draft executive order to the White House Office of Science and Technology Policy that would authorize a whole-of-government approach to CDR research, development, and demonstration. This order closely aligns with the Energy Futures Initiative's Clearing the Air report that we co-supported in 2019.
The new Biden administration appears poised to push for meaningful federal support for carbon dioxide removal, which is recognized as a key climate solution in a House and Senate Democrats' special report on climate change. Our partners and grantees have provided CDR briefings for the new administration and have led efforts to draft the CDR chapters of transition books for the U.S. Department of Agriculture and other agencies. Some of these partners and grantees are now taking up positions in the new administration, where they will continue to champion safe and sustainable carbon dioxide removal.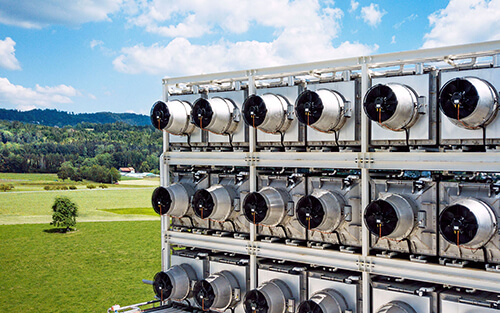 Taking lessons from the scale-up of solar and wind power, we advocated strongly for federal CDR procurement policies to buy down the cost of direct air capture. Three bills with DAC procurement provisions were introduced in 2020 and passed by Congress and signed into law as part of the Energy Act of 2020 in the Covid-19 Omnibus. The Omnibus calls for the creation of a federal prize for direct air capture that excludes use of enhanced oil recovery. In line with the recommendation of a Rhodium Group report that we supported in 2019, the DAC procurement price in the legislation matches the proposed $180 per ton of carbon dioxide captured and stored, a price point that makes DAC projects attractive to early-stage developers. As more DAC plants are built, the iterative learning process will help drive down costs. Alongside authorizations, Fiscal Year 2021 appropriations will provide an additional $447 million for carbon dioxide removal, a significant increase from the $68 million in Fiscal Year 2020.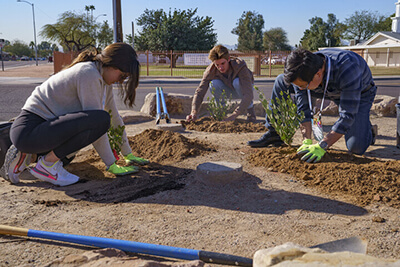 Natural CDR options that are shovel-ready and can provide jobs in forest management and rural revival have attracted interest from policymakers. The Growing Climate Solutions Act recommends the creation of a certification program at the U.S. Department of Agriculture to help lower technical entry barriers to the participation of farmers and forest landowners in carbon credit markets. Grantees at the Bipartisan Policy Center and Duke University established the Farm and Forest Carbon Solutions Initiative, a high-level political dialogue focused on developing a bipartisan set of programs and federal investments that both support natural carbon dioxide removal and rural development. We look forward to covering more of our natural CDR work in future blogs.
3. Increasing CDR ambition in Europe and the aviation sector
As we made clear in this blog, using carbon dioxide removed through direct air capture for enhanced oil recovery efforts is not the path we seek to support. Instead, our aim is to use the oil industry's vast infrastructure to remove carbon and fuse it back into rocks through a process called carbon mineralization. We can also use this opportunity to transition oil workers from oil rigs to direct air capture plants, and make them our partners in realizing a climate-safe future.
More importantly, fuels created from removed carbon dioxide and green hydrogen will advance decarbonization in sectors with hard-to-mitigate emissions, particularly long-haul aviation. Our grantmaking supported European researchers and advocates who have worked to make that case in key policies, such as Renewable Fuels for Europe for Aviation (ReFuelEU Aviation), and industry discussions. At the national level, Germany, Switzerland, and the U.K. have shown significant interest in DAC-fuel and green hydrogen expansion. In 2020, the U.K. government announced £100 million for DAC demonstration and Germany proposed a 2 percent synthetic fuel mandate. To inform and spur DAC-fuel development, we issued a proposal for a report that will (1) compare the land use implications of DAC-fuels with those of biofuels and (2) assess Europe's demand for renewable energy as a result of DAC scale up.
Just two years ago, DAC-fuels were completely new to industries in Europe. Through informed outreach and education, we have created enough awareness and knowledge to allow policymakers and industries to ask the deeper questions about financial viability and project demonstration. Further education and proof of concept are needed for the public and private sectors to become meaningfully engaged. Our outreach efforts are inspiring U.S. air carriers to take a look at direct air capture. We look forward to seizing on their interest.
4. Advancing ocean CDR science and practice
As we plant trees and deploy land-based direct air capture, we will remove historic carbon dioxide out of the air, but scientists believe that oceans will give some of that removed carbon back to the atmosphere. The global oceans play an important role within the carbon cycle, and we want to better understand this process and learn whether we can address ocean acidification, which is closely linked to excess carbon dioxide emissions. To combat acidification, we could try to speed up the natural erosion of alkaline rocks, as oyster hatcheries and some beaches made of olivine already do.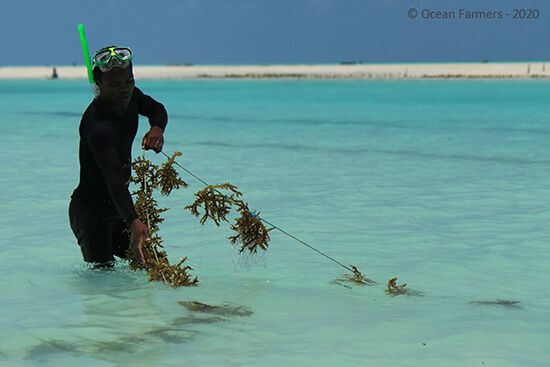 ClimateWorks is one of the first philanthropies to support the study of safe ocean carbon dioxide removal. Our 2020 grants sought to identify and close knowledge gaps in ocean alkalinity management and to explore how much carbon dioxide seaweed cultivation can sustainably remove. Some ocean CDR approaches are transitioning from theory to laboratory and small-scale field testing. Because this costly testing requires additional government support, we funded a National Academies of Science, Engineering, and Medicine study on six ocean CDR approaches. The report findings will be used to identify a policy pathway and to cultivate government interest in ocean CDR.
Our grantmaking addressed another ocean CDR challenge by creating a platform to drive consensus building and formalization of the nascent ocean CDR field. Oceancdr.net houses over 300 annotated resources and has over 270 members thus far. To help inform the field's development, we funded and look forward to unveiling a five-year ocean CDR roadmap with partner Ocean Vision in May, 2021.
5. Cultivating private sector interest in carbon dioxide removal
2020 started out with a big uptick in corporations declaring net-zero emissions pledges. Even as Covid-19 temporarily dampened airlines' interest in direct air capture, many companies, including Amazon, Microsoft, Shopify, Stripe and SwissRe, continued to demonstrate a strong interest in carbon dioxide removal. To inform and galvanize private sector engagement in CDR, we, along with the Climate and Land Use Alliance and the World Resources Institute, launched the first CDR investor knowledge hub with the Economist Intelligence Unit (EIU). To date, the EIU site on CDR has received more than 20,000 visitors and over 1.3 million social media impressions.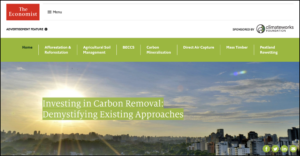 An emerging challenge is ensuring that carbon dioxide removal doesn't become just another type of offset for companies in sectors that already have available mitigation options. More than a dozen businesses have reached out to us for CDR investment advice, and our conversations with them has highlighted the lack of effective vehicles to translate CDR science into investment decisions. Private sector enthusiasm and investment — which now includes Elon Musk's offer of a $100 million prize for the best carbon capture technology — is critical for carbon dioxide removal to scale, but it must be carefully guided.
Looking forward
Philanthropic support for removing historic carbon dioxide emissions makes up less than 6 percent of total climate change mitigation giving, which currently is aimed at taking emissions to zero — for instance, with wind power, solar power, and electric vehicles — but not to less than zero. That support got a big boost with the Bezos Earth Fund's (BEF) contributions to natural carbon dioxide removal through awards to such venerable organizations as the World Wildlife Fund, the Salk Institute, and the World Resources Institute. At ClimateWorks, BEF funding will support programs unrelated to carbon dioxide removal, such as the elimination of oil from land and sea transport and of coal from cement and steel production.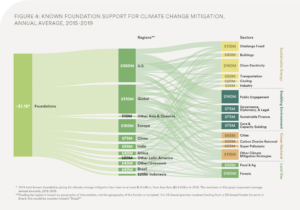 Significant amounts of public and private capital are needed to seed and galvanize CDR research, development, and demonstration approaches on land and in our oceans. From our experience, well-positioned climate giving can be necessary in growing the capacity needed for climate action and catalyze public and private funding, though climate philanthropy alone is insufficient to bring these approaches to scale in less than 30 years.
Given the new Biden administration's interest in tackling climate change, we are confident that the public sector can step up to scale removal, and in doing so, to provide confidence to private investors. Elsewhere, in meeting its new net-zero emissions commitments, China's participation in CDR could drive down costs in the same way that its solar power industry reduced costs around the world.
Even with coordinated efforts by philanthropists, governments, scientists, and businesses globally, carbon dioxide removal will not scale successfully and sustainably without diverse voices and support from all communities. We look forward to working with our funders, grantees, and partners in 2021 and beyond to build a strong foundation for a set of carbon dioxide removal approaches needed to meet the Paris Agreement goals.
Published January 28, 2021
Downloads