All Resources
State of climate action 2021: Systems transformations required to limit global warming to 1.5° C
Combatting the climate crisis requires society to rapidly transform all of the systems that propel our economy, including power generation, buildings, industry, transport, land use, and more. But by how much? And how can we make it happen?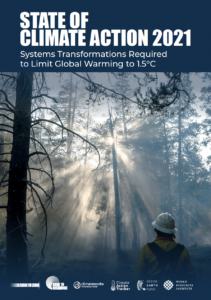 A new report by the Systems Change Lab (a core component of the Global Commons Alliance),  the Climate Action Tracker, World Resources Institute, the U.N. High-Level Climate Champions, Bezos Earth Fund, and ClimateWorks Foundation takes stock of global progress toward the goals of the Paris Agreement, highlighting the areas where we are falling behind. The report finds that while there has been modest progress in some areas, not a single one of the 40 indicators analyzed is on track to deliver progress at the speed required, in part due to a dire lack of financing for climate action.
By providing a clear-eyed view on the state of climate action today, the report helps funders and others to understand where we stand, and what supportive measures are needed to accelerate the world toward a safer, prosperous, and more equitable future.
Learn more
Contact us to learn more about climate change mitigation opportunities, funding trends, and philanthropic strategy development.
Published October 28, 2021
Downloads