All Resources
Seven ways the Global Stocktake can accelerate the phase-out of fossil fuel finance
The world's continued reliance on fossil fuels threatens our efforts to mitigate climate change. Numerous governments continue to provide domestic subsidies and international financing for the extraction and use of this polluting source of energy. While some governments have pledged to phase-out these subsidies, their commitments are often vague, without clear timelines and lack milestones for action.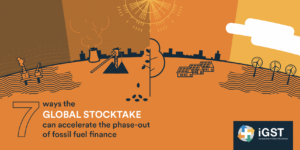 At five-year intervals, the Global Stocktake (GST) reviews collective efforts to increase climate ambition within the multilateral climate change negotiation process. Financing for fossil fuels were not explicitly mentioned in the Paris Agreement due to the political challenges at the time. Now, the GST could provide an opportunity to raise awareness and help end these subsidies. The stocktake can offer a platform for countries to collaborate on increased transparency, on subsidy reform pathways and on a just transition.
This thought piece from the Finance Working Group of the independent Global Stocktake (iGST) outlines seven ways in which the GST should strengthen ambition to phase-out the government financing of fossil fuels. Access the full publication here or watch the video above to learn more.
Published November 9, 2021
Downloads
Authors